A little whiff of irony, maybe, to read the story of Munarman…
.
..
..till recently a senior figiure in the now-outlawed sectarian vigilante gang that oddly styled itself the 'Islam Defenders Front…'
.
.
…in The Diplomat, of all publications!
Far from diplomacy, the characteristic that springs to mind when I think of the lawyer closely associated with  Rizieq the Fanatic is tantrum-throwing.
Munarman's deplorable behaviour, live on tv, a few years ago, when I dubbed him
Munarman
 the Lout…
.
…invited onto TVOne to discuss FPI's hoodlum behaviour, 

Munarman

 lost the argument and then totally lost his infantile temper, hurling a glassful of water over the mild-mannered academic who'd bested him.
….one of various incidents which we have mentioned more than once, and which did not result in jail-time…
.
..
But he's locked up now, and it seems possible that his latest difficulties with law enforcement this week…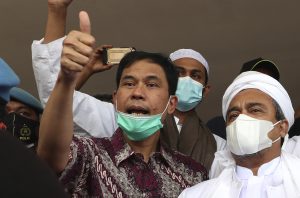 …after being investigated by the admirable officers of Densus88, may be more than a minor headache.
..
The anti-terror specials allegedly arrested him for not only 'inciting people to commit terrorist acts,' but also for 'pledging allegiance to the Islamic State group…'
Of course we must await judgement as the majesty of rhe law unfolds, but the media report makes for an enjoyable read.
The arrest took place in Tangerang, just a few miles from where I live in Jakarta, after police interrogated 'scores of suspected militants detained after an attack outside a Roman Catholic cathedral during Palm Sunday Mass last month.'
We covered that shocking incident….
…and it's interesting that the police also cobducted a no doubt diligent search of the vigilante gang's former HQ and turned up 'chemicals for use in explosives.
Very interesting!
We wrote quite a lot about their HQ, when Mama Stasi Merkel's agents were prowling about there a few months ago!
Now what?
"He is accused of an evil conspiracy to carry out acts of terror," National Police spokesperson Argo Yuwono said in a statement….
Patience is our watchword!
But no sympathy!
it's hard not to think about all the people harassed and hurt by cowardly FPI thugs.