With that klutz Kane, maybe the focus was on megalomania?
..
Nice though it was to see FIFA remember that footie is a sport….
…with the report on the letter sent out, telling World Cup teams not to 'lecture on morality.'
…unfortunately the letter 'does not reference the request by England and Wales and six other European nations for their captains to wear "One Love" multicoloured armbands at the World Cup…'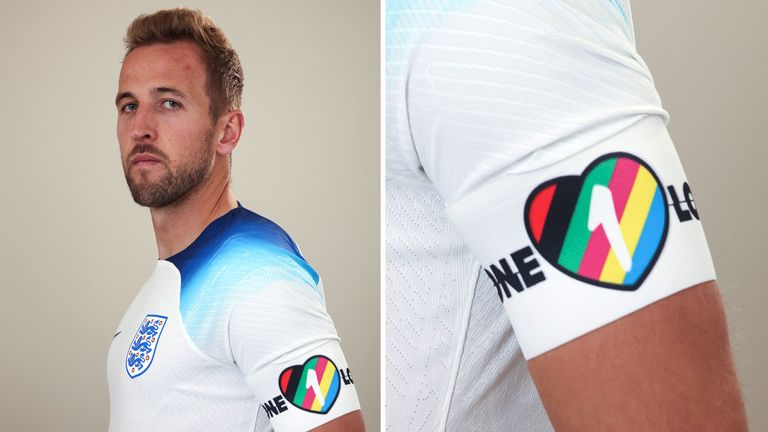 …and Kane is being childishly defiant.
It's sad, really.
Most boys in the UK have always included players in fave teams in their pantheon of youthful heroes, which was fine ..
..until teams became infected with decadent ideology, captains now adorned with emblems exalting perversion.
One has to hope young lads will see through the self-righteous dorks' posturing, but who knows?
It's hard for kids, already subjected to school indoctrination…
.
.
..and tv brain-wash.
Incredibly, it seems that 'Both British nations…'
00000
NB – that refers not to the actual nations but to the teams. Many Brits have no time for the gaystapo agenda.
00000
'…have already said they would defy any ban by FIFA, which used the letter to caution against activism.'
So Kane is not alone in the klutz category.
0000000
..FIFA president Gianni Infantino
.0000000
While we applaud FIFA president Infantino's caution to bleading heart pinko pukes…
.
"At FIFA, we try to respect all opinions and beliefs, without handing out moral lessons to the rest of the world…."
…and wish UEFA talked as much sense..…
….I have to say that the rest of his statement is tommy-rot.
"One of the great strengths of the world is indeed its very diversity, and if inclusion means anything, it means having respect for that diversity.
Not so, signor!
In Iran for example, an old, rich culture has been submerged by another one, infinitely inferior.