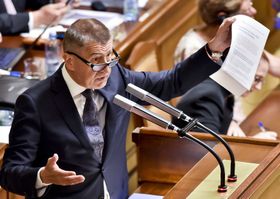 Prime Minister Andrej Babiš
======
Bravo to the Czech PM, who spoke not only for his own people but for all the countries in Europe facing the migrant menace, when he said that taking in more asylum-seekers was a "road to hell."
ooooo
Imagine – hard  to do, admittedly – if May were to talk such sense!
Comrade Corbyn would go nuts.
=

=
That old curmudgeon Cable would orchestrate his LibDem lot into shrilling fury.
Scots separatist Sturgeon would echo that and add that she'd take in as many diseased aliens as want to come.
=

—
Not so in Czecho!
Opposition parties unanimously backed the government's decision at the weekend, saying the only possible solution to the problem was to tighten EU border protection and solve the migrant crisis in the countries of origin… 
What we have to ask is WHY, in the lands that lived through another hell on earth, communism…

….there is so much patriotism, while in Western Europe we are seeing the reality of Merkel's pretend conversion to common sense, which nobody in their right mind believed – the figures speak for themselves, read in the context of that famous German efficiency.
While deportation orders in Germany are up 17 percent, the number of migrants who have actually been sent to their home countries is down to just 4 per cent…
…and the double-talk from Muppet Macron,
Why the difference between the lands that were long enslaved and those that never suffered under communism?
My own favourite theory is that the overtly totalitarian nature of marxist rule – and the concomitant media/school indoctrination programmes – engendered a deep resistance to brain-washing.
In contrast, the ostensibly democratic nature of the Western nations has made that process almost simple.
=
=
The minds of the young were, and still are, multiculted from primary to higher education levels…

…and adult dissent gradually restricted, an ever-expanding put-down of whatever is part of the nation's way of life, to the extent that now even Christian preachers get jailed for quoting Holy Writ…
In Italy this month, it was decreed that even telling people who don't belong in your country that they are not welcome was proscribed as 'racism!'
The forces long sedulous in efforts to wreck Western Europe's identity are toiling too in the East European lands…
… but sedulous though they are, both governments and peoples are as one in their resistance.
What do you think?