Some of you, expatriate patriots like me, may recall that we exposed what we then described as the
=
…leftist garbage penned by some pinko klutz called Tim McNulty…
…in a rag called 'The Olive Press.'
That was back in April, but the oleaginous extremist rag has again shown its true colours.
Most of you will be aware that the Addled Swede Brat has been 'stranded' ( except that she isn't – she could fly like normal people do!) in the Americas and is frothingly desperate to get to Europe, to shrill and scowl on her climate-panic hobby-horse at a conference in Spain.
=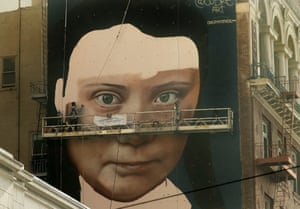 Sure beats going to school and actually learning stuff!
However, the extremists who run the The Olive Press have 'stepped in to offer her a lift in an electric car from any of the ports she can make it to on the Iberian Peninsula, that could include Cadiz, Lisbon or A Coruna.'
That's their privilege, as with anybody who's got more money than sense!
But do British and other anglophone expats in Spain, who, in my experience, are not notably, in fact not at all, characterised by subversive sympathies or any leftist ideological allegiances, appreciate this pro-panicker generosity?
Many would more likely agree with me that the Brat best be left to hoof it, then swim all the way to her destination.
Brits and other sensible expats should boycott The Olive Press and any company that advertises therein.