Further to our post just a little while ago –Decent Brits,Tell Boris – Bring FCO Flunkeys To Heel!  – on how the British Foreign Office is flouting local law in numerous countries by hosting so-called 'gay' so-called 'marriages…'
 
…one of our commenters has asked a very pertinent question.
=
=
Has Boris Johnson decreed, or has he plans to decree, that UK diplomatic outposts will afford similar opportunities for people of different creeds to marry, even though local authorities either outlaw such pluralist weddings or subject them to immense difficulties?
In Indonesia, for example, most foreigners who want to marry Muslim girls without turning apostate find it necessary to go across the Straits to Singapore…
=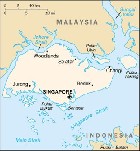 =
…or Thailand, where the laws take a very civilised attitude to marriage between people who love each other but happen to worship God Almighty in different ways.
And it's not just a problem for foreigners!
In the UK, of course, it's perfectly legal to do so, and causes little if any ill-feeling, except among bigoted in-laws.
So why should Boris not demonstrate REAL tolerance in HM's embassies, instead of merely catering to the 'gays' on whom he dotes?