One of my veteran commenters suggested I should look at the upcoming Canadian election and he's right.
=
=
However, I see no need to duplicate the excellent work done by True North Initiative…
…so I simply intend to ask, again and again, if the Opposition Conservative Party will guarantee to undo the insanities of the Justin Turdo regime.
Let's start with this latest news from the Dominion, which is a long and complex analysis, hence I only offer the link and will let you read it for yourself.
=
I actually don't expect the Tory leader Scheer to do the right thing -when he does talk sense, he has been known to bottle out, with weasel words…
=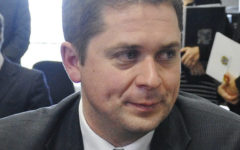 Weasel Scheer
=
…

as we have noted before now…
…notably as far as free speech on campus is concerned.
So I will probably end up backing Maxime Bernier's new party.
.

=
But let's wait and see!