I have always enjoyed political fiction, and I've mentioned before my liking for the 'what if" variety, one of the first I ever read as a teenager being Sir Charles Petrie's 'If, A Jacobite Fantasy.' 
That offered an intriguing guess about how things might have turned out had Bonnie Prince Charlie pressed on to London in 1745. If: A Jacobite Fantasy
It whetted my appetite.
—
–
——
There was 'When The Kissing Had to Stop,' by Constantine Fitzgibbon, a nightmare yarn on the fate of Britain had CND prevailed and the Communists taken power.
—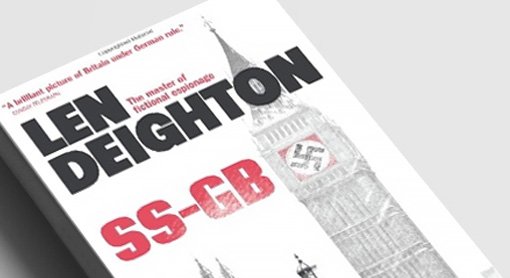 'SSGB' by Ken Deighton, and the famous Philip K Dick's 'The Man in the High Castle,' both wondering how we'd be if my parents' generation had lost World War Two.
---
—-
And I have meandered through many others over the years, Sinclair Lewis' 'It Can't Happen Here' being one of the best.
————
But today, thanks to EUObserver, I've discovered another writer, whose gift for wild imagining goes far beyond any of those already mentioned.
---
 Moshe the Hysteria-Monger
—————————–
His name's Moshe Kantor, and he's a top man in the European Jewish Congress.
Here's a little taster to tantalise you. 
Nationalists will inevitably be followed by extremists and radicals of all kinds. Europe will find itself back in the 1930s, if not in the Middle Ages. Do we remember what happened after the 1930s – World War II and Holocaust?
http://www.eurojewcong.org/ejc-in-action/15130-ejc-president-dr.-moshe-kantor-on-brexit-and-the-jewish-question.html
Scary stuff, huh?
A terrifying regression of our civilisation, into a mediaeval world of pogroms, apocalyptic scenes of genocide, images of concentration camps flashing before our eyes – surely the book will soon be made into a movie.
EXCEPT…
It's not a book.
This lurid vision comes from Kantor's crazed anti-Brexit article, some of the most hysterical hogwash I've yet encountered in my voluminous reading in the run-up to the UK referendum on June 23rd.
Mr. Kantor is worried, and not without reason.
Jews are being attacked more often; fearing for their lives, Jews are leaving Europe in larger numbers.
But that's down to a very large number of unpleasant and uncivilised people having been admitted to Europe over the years, many settling in the French banlieues or in Brussels' Molinbeek. These savages have failed – because they didn't try! – to become part of the Western societies they chose to settle in.
---
 Paris banlieue burning
—
Instead, though few of those hail from the Middle East, most of them being of North African origin  they are motivated by imbecilic sectarian solidarity with the PLO, with Hamas and with ISIS.
That's not just my view – even crimmigrant-sympathetic media like The Local have acknowledged this.
...the bloodshed in the Middle East unleashed a wave of unrest, particularly in the Paris region which saw a surge in anti-Semitic acts and threats...Rising anti-Semitism forces Jews out of Paris suburbs
Jihadist savages are the source of the attacks, and the fact they have not been subdued, detained, expelled and their menace thus removed is why Jews are leaving.
How come those needful steps have not been taken? And how come their numbers have swollen, not just in France and Belgium but all across the Continent?
Here's the answer – EUSSR!
A million aliens who do not share European culture or values have poured in, thanks to the Brussels clique, specifically…
–
—
Merkel's devastating invitation, Mogherini's wicked incitement, and Liar Juncker's hectoring abuse, cheer-leading Timmerman's intimidation of those nations bold enough to resist…
Good Dutch News, Bad Dutch Man – Time To Exert People Power!
…an arrogant elite, causing the problem, exacerbating it, then endeavouring to bully everyone else into sharing its hellish consequences.
It's the European Union's malevolent political in-crowd that deserves condemnation, by Jews, and Germans, and everyone else. It's the European Convention, its 'rights' rubbish and the rogue courts that apply its strictures.
'Europe' in its formal EUSSR guise is the deadly enemy of Europe as an historic entity with a common cultural heritage.
Yet Kantor's crazed scribbling holds up Brexit as the threat.
There is no doubt that if the EU gets weaker or collapses under the weight of social, economic and financial troubles, anti-Semitism, one of the most detestable manifestations of xenophobia and extremism, will escalate to the level of regular pogroms, if not to the level of Nazi persecutions.
Oi vey, Moshe, get real!
He's an educated man,who must be aware that the EU is the brain-child of the Belgian Nazi Spaak and the Vichy collaborator Schuman.  
—
Spaak, a sleazy Belgian Nazi
———————
Like Adolf Hitler, Jean Monnet held the common people in contempt…
————-
"Europe's nations should be guided towards the super-state without their people understanding what is happening. This can be accomplished by successive steps each disguised as having an economic purpose, but which will eventually and irreversibly lead to federation."

Jean

Monnet

, Founder of the European Movement.
 https://rossrightangle.wordpress.com/2015/02/22/brussels-nazi-antecedents-exposed-but-ukip-grovels-again/
 ——————-
.. deeming them as mere sheep to be kept in the dark while their superiors forge ahead with his Fourth Reich.
Kantor must know, too, that the 'nationalists' he loathes are the very parties who show solidarity with Israel. Austria's FPO is just one example of that.  
But whatever, his nasty rant, trying to smear Brexiteers by suggesting their endeavours will lead to another Holocaust, is beneath contempt.
PS, The offensive article was first published in February, but has only now popped up on EUObserver's website. Not sure why, but nevertheless, Kantor should apologise for slurring good patriots.