The Alexis must be shut down? So how about Jakarta's various 5-star hotels?
That's my response to the news last month that hit the headlines here, concerning a famous place in the north of the city which is said to be…
====

===
…and I quote The Jakarta Globe's quoted descripton –
But I'll stick with the Jakarta Post for the most part, on our brand new Governor,  Anies Baswedan's refusal to extend the operation permit of Alexis Hotel in North Jakarta, an establishment he explicitly mentioned during his gubernatorial campaign, claiming that he had collected sufficient evidence that it hosts prostitution services.
"We are firm. We don't want Jakarta to become a city that allows prostitution to take place."
That's interesting.
Whatever the Alexis' faults – and I've never been there – they are surely not unique. ANYONE who has been out for an evening in some of our international-standard five-star hotels ( I won't say all of them, because I haven't been to all of them!) must be fully aware that it's not at all unusual to bump into the occasional kupu2 malam.
=
Kupu2 malam = Night butterflies!
========
I met up with a former colleague a couple of weeks ago in one such splendiferous – and expensive – edifice and we had barely ordered a couple of 'happy hour' beers before a delightful lady approached us with an amiable but acquisitive gleam in her eye.
=
………
"Hi!"
I responded with my habitual courtesy but promptly assured her that we were retired teachers, not the affluent tourists or foreign businessmen who constituted much of the clientele.
She, with equal courtesy, and promptitude, took her leave of us and went off in search of more acceptable prey.
=

=====
I'm sure she advised her colleagues/rivals because although there were quite a few similarly sultry sorts on the prowl, they none of them showed interest in us thereafter.
I can think of at least three of four other grand hotels in the city where I've encountered these kinds of slightly avaricious but ever-charming slinkies, operating openly and regularly.
I won't name them, because I do not wish to be sued –  certain types of business persons here are as litigious as certain types of Americans! – but any male expat who goes out at night will surely confirm my veracity.
Hence my headlined question – how about the 5-stars?
Maybe Governor Anies Baswedan has never entered their bars after dark? Is he truly unaware of what goes on?
Does he plan to refuse to extend their operating permits?
=
=
If some residents or some media tell him, will he seek to shut them down too?
But that leads me to the rest of his statement, as reported in the JP.
We have received reports and complaints from residents as well as media reports [about such a practice]…" Anies, however, refused to elaborate on what kind of evidence he had obtained.
So another question – does Anies have any REAL evidence, like police reports, or is he set to order the Alexis' closure purely on the basis of just some fretty residents and the 'media?'
How come he won't say?
And that brings us to another question!
Has HE ever been there, in the Dreamland of Men?
=
=
Has HE taken the trouble to use his gubernatorial limousine to travel up to Ancol and have a look, one evening, at the denizens of the Alexis?
Surely that's the very least that fair play demands, since 'the Alexis Hotel has not violated any regulations,  according to its legal representative…
==========
=========
MASSAGE SERVICES!?!
If there's nothing else on the charge sheet, could there yet be a happy ending?
Oh, but let's not forget that closing Alexis was one of newly-elected Jakarta Governor Anies Baswedan's campaign promises during the gubernatorial election earlier this year.
SO if he goes ahead, and demonstrates consistency by treating Jakarta's celebrated international hotels with the same zeal, he will be keeping his word to those who supported him.
=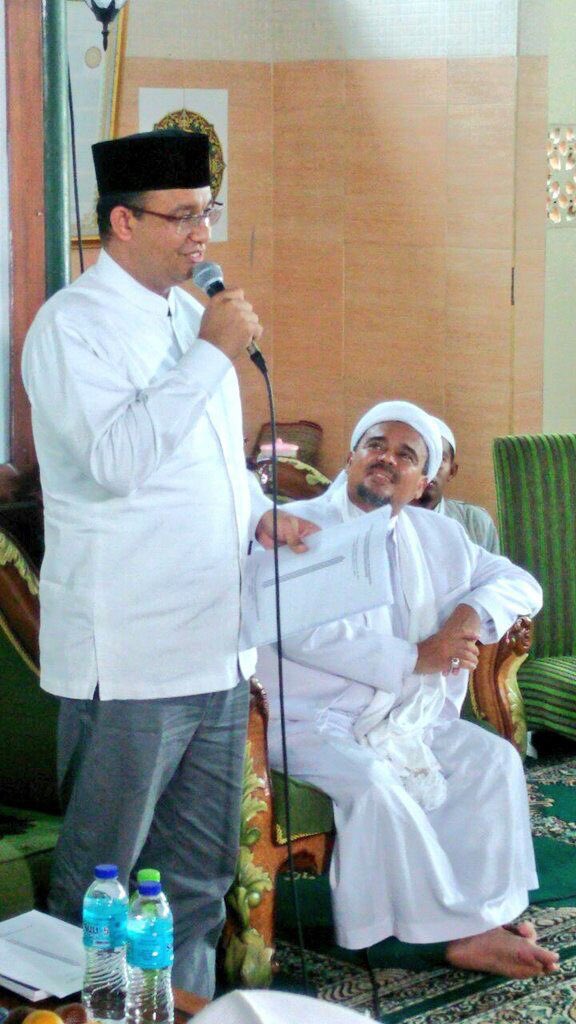 Anies Baswedan wins a smile from FPI 'grand imam,' Habib Rizieq
========
And let's ALSO not forget some of those supporters, like the white-shirt vigilante gang, the self-styled Islam Defenders Front – the FPI!
THEY will be beside themselves with glee.
Even more so if the national parliament presses on with their prohibition law.
===
Let's wait and see!
Before we start packing.