I haven't been to Monas Square for a while, not sung a hymn since Easter! 
 Yesterday I went way down south, to Pejaten Village Mall, a pleasant outing, to meet up, one after the other, with a young friend and an older one.
Always good to keep in touch.
———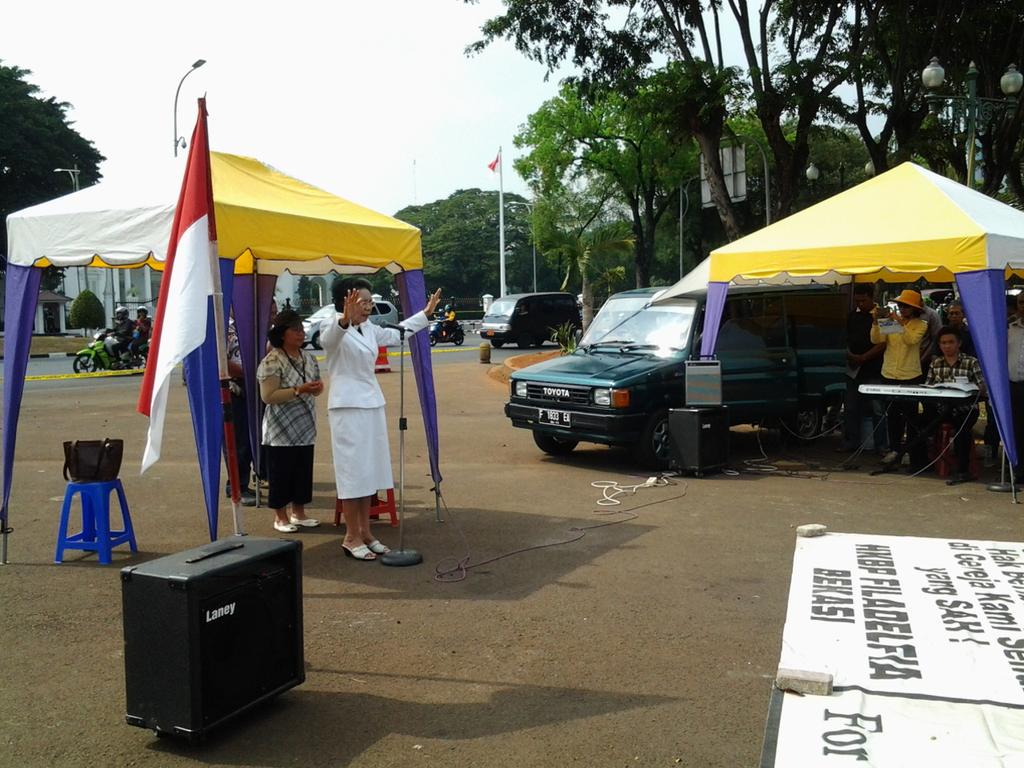 First weekend in June – Jokowi's Palace in the background, as victims of intolerance are forced to worship on the public street
————————
But this very weekend, back up  by Monas, across the road from President Jokowi's Palace, I'm told the persecuted Christians were once more at worship out in the hot sun, the GKI congregation from Bogor still barred by nasty Islamist bigots from their church – and the HKBP church from Tambun, Bekasi, in a similar plight.   
===
===
There is ABSOLUTELY no excuse for this. We've reported again and again on the Supreme Court ruling which neither President SBY nor his successor, Jokowi, have seen fit to enforce.
————————–
So many Indonesian friends of freedom, of every creed,  rejoiced when Jokowi won that close election.
=
—
They believed his commitment to religious liberty would result in the police being ordered in, not, as before, to act as referees between those Christians and the sectarian louts who hate them, but to fulfil their duty and open up the church for its congregation to enter and worship freely.
==========-
 Lily Wahid, a Muslim champion of freedom
–
Instead the thug gangs, GARIS etc, against whom brave Muslims like old Lily Wahid stood up despite crass intimidation, appear to have got their way. The self-styled 'pluralist' Mayor who replaced the overtly bigoted mayor in Bogor, is playing the same game, even denying the existence of the Yasmin congregation.
–
——————
Will Jokowi some Sunday soon come out of his palace, walk across the street and tell these victims of evil that he will have their churches re-opened…or will the darkness continue to spread across Indonesia.