After watching BBC World News at 6.45pm last night, with at least 10 minutes devoted to a fairly unattractive old lesbian gloating how times have changed since the law reflected decency, in Clause 28…
(which Hungary is emulating, to the fury of the degenerate Brussels elite = Hungary's Clause 28 – "Hands Off Kids! " )
…I was moved to wonder that UK Pravda hadn't given lavish coverage to news sent me by C4M.
=
Or maybe I missed it!
One can't begin to imagine what poor old Wesley would have said about the Methodists endorsing maladjust 'marriage.'
We noted how they went after Christmas traditions some time ago.
It was their 1984 General Conference that started all the gunk, the consequence being an instruction to the Hymnal Revision Committee to "be sensitive to inclusive language, but respect the language of traditional hymns...
…language that is discriminatory or not otherwise in accord with the Social Principles of The Book of Discipline should be altered or deleted."
They have now voted overwhelmingly to allow homo-weddings on their church premises.
I would like to be able to say that there was spirited resistance to this latest surrender to the relentless queer lobby…
=
=
…but the governing body, the Methodist Conference, passed the revolting resolution by 254 to 46, according to C4M. This came after 29 out of 30 of their local synods concurred.
Now what?
Will the Church of England, of which HM The Queen is temporal head, go down the same drain?
There have been plenty of straws in the wind, and the Anglican Bishop of Liverpool, a person called Paul Bayes, has already urged the C of E to do so.
And it would be no surprise if that happened.
We have noticed that berk Bayes before,,,
…when we observed that it was no wonder 'Anglican pews are increasingly deserted.'
That was when Paul
Bayes

lambasted conservative evangelical Christians, arrogantly claiming they risked bringing the word evangelical into disrepute by their support for Donald Trump.
.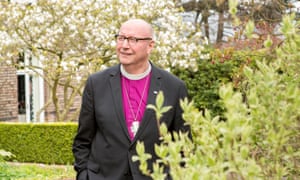 ——-
As I said then, the far-left freako at least made no effort to hide his purely political agenda.
'If people want to support rightwing populism … how are they going to relate that to their Christian faith?'
Christian faith?
 
Sounds more like Jeremy Corbyn than Jesus!
PS – C4M does a good job monitoring gaystapo activities – help 'em out if you can, by so using the button below.