What a star!
=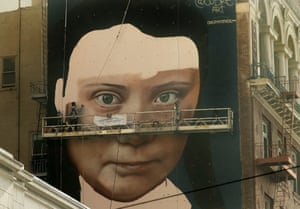 Poster child? Sure beats going to school and actually learning stuff!
..
Not! Merely pathetic!.
I refer not to The Addled Brat but to a sad old man.
The report might lead you to imagine that Vine is no longer with UK Pravda, but not so!
He hasn't moved on, no departure as with The Maitlis and her current podcasting comrade in arms, Sopel…
Night-Hag Maitlis without her make-up. Not only far left, but a far from pretty sight…
In fact Vine is still very much a BBC apparatchik… host of his BBC Radio 2 lunchtime programme which presents news, views, interviews..     
(wikipedia)
00000
…and his sycophantic words – word, in the above case – illustrate his engrained bias, which we noticed quite a while ago…

…and reported on the fanatic's behaviour
It is likely the public have a limited amount of leverage when complaining about the content of commercial TV.
However, as a publicly-funded service, the BBC must be answerable to the licence-fee payers for the conduct of their employees, whether that be within or outside their own broadcasting purview.
For a very high-profile BBC employee to act as Vine has done in promoting unfair accusations against a hard-working member of the public, one of the people partly-responsible for paying his BBC-reported salary of £320,000-324,999, is intolerable and an insult to all HGV drivers across the country.

.
How anyone can feel "honoured" to be pictured with this malevolent minx…
.Wrong, BBC! Glastonbury AIN'T 'Inclusive!' 
The Addled Swede Brat
….is a fair question.
But a better question is how can Vine ever do his UK Pravda duty to be impartial, with such a twisted mind-set.
Day after day we get drenched in BBC climate panic propaganda…
…and it's mockery of their charter obligation to be…
BTW, that whole Telegraph article is well worth reading.