It seemed peculiar from the moment it started, that BBC promo for head-scarfing…
Halima Aden and Tommy Hilfiger: 'It's not just about diverse catwalks'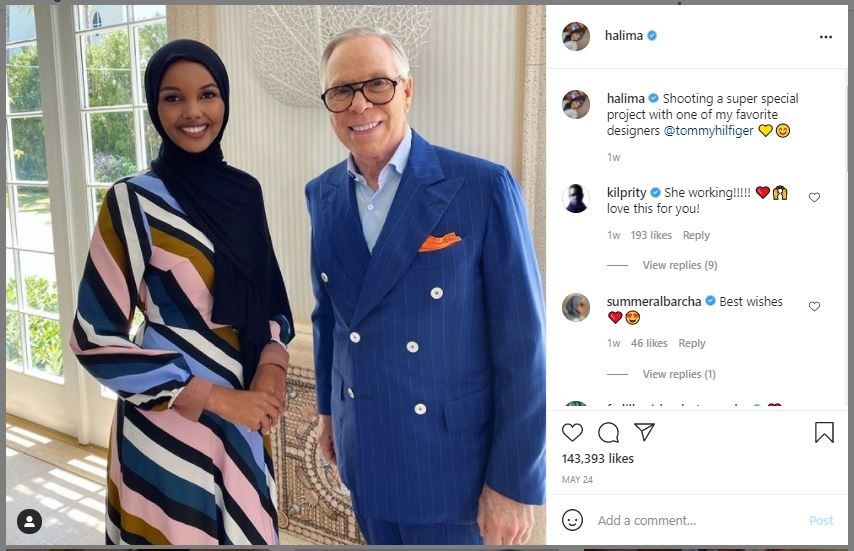 ….
Halima Aden, the world's first hijab-wearing supermodel, meets US fashion designer Tommy Hilfiger in a BBC 100 Women exclusive… 
…a rather pretty young fashion model rabbiting to a fancy-pants old fart about how refreshing it was to wear a shariah scarf in her work.
Up to her.
Western women wear head-scarfs on windy days.
But we have in the past noted the Big Lie, that the scarf is a symbol of modesty ..…
=======
…..
… arrogant fashion shows claiming to be 'Fesyen Modest.'
That arrogant claim constitutes a grotesque slur on every girl who models perfectly decent clothes, as if showing one's hair or knees or shoulders is somehow immodest, as if women who go to work or do the shopping or attend a party dressed modestly, wearing clothes like these…
..
===

…clothes which are self-evidently modest in every way, no bare bums, no nipples on display, just perfectly normal attire, as if they are not modest!

'Modest Fashion?

'Fesyen Modest?'
What balderdash!
But for BBC to persist with this sad little promo, which they did again yesterday, and again this morning…
.
.
…while the people in Kabul are cowering at the take-over by evil savages flaunting their vicious sectarian ideology….
…revelling in their pig-ignorant hostility to women…
…surely UK Pravda could cut the scarfy stuff, at least while normal Afghan women are at risk of being flogged or being pelted with rocks…
.

..
…for not submitting to a mediaeval mind-set.
Male bullying of women into shariah subjugation is a global problem.
We have shown you this offensive picture before…
… which I once more translate from Indonesian to English.
'Fathers and husbands! Their private parts are your responsibility.'
'Private Parts' – knees, shoulders, mid-riffs?
Gimme a break!
…
But when those Afghan women arrive in the UK, or the USA, or Australia, they should promptly be assured that, among the freedoms they may at once enjoy…
.
.
…is that there is NO obligation to continue conforming to the codes or customs they have left behind.