Jakarta Governor Anies Baswedan said on Wednesday that the city administration would not accommodate the needs of Alexis Hotel workers who lost their jobs after the city revoked the hotel's business permit.
=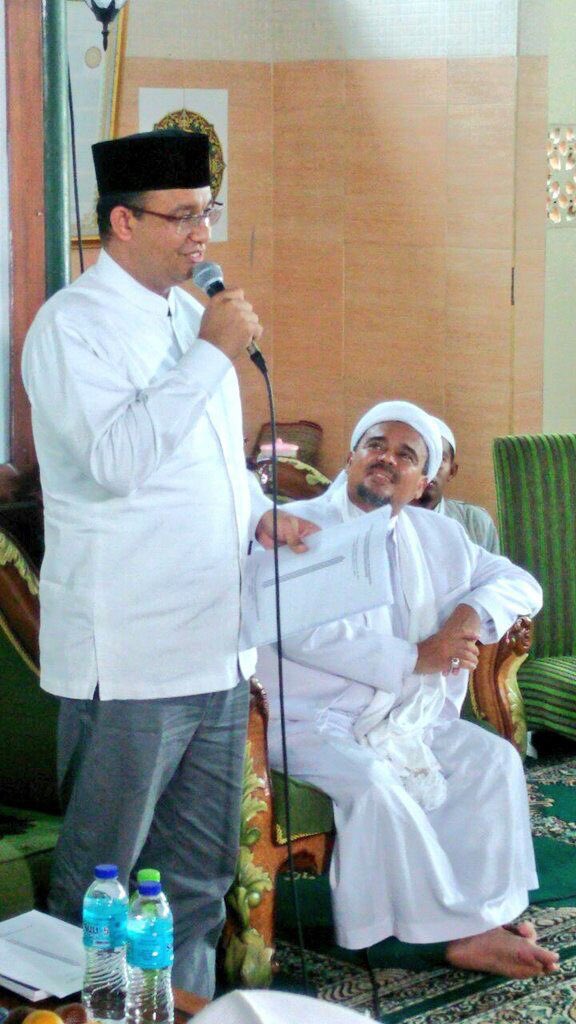 Anies

 wins an adoring smile from ferocious fanatic Habib Rizieq, who had recently suggested the Christian Governor Ahok (Anies' predecessor)  be slain for

unacceptably quoting some Koranic verse –

."We encourage the government to process the death penalty for 

Ahok

 as soon as possible," said 

Rizieq

. 
000000000000000000000========

Aaah, ITMA.

We paid some attention to Anies' rise and rise, notably how he won such a warm smile from one of the most extreme Islamists in Indonesia.

But one cannot judge a man from the worrying words of one of his supporters.

Fairer, surely, to take his measure by considering the humanity embodied in his own words now that he's in power.

=
Alexis Hotel
=

"Don't act as if the hotel closure has caused them to suffer and they're the victims of the closure. Everybody that worked there realized that there were violations committed by the business, which means they were all committing the violations together…"

Aaah, that grand old principle of collective guilt.

Funnily enough, although the Alexis was shut down because Anies averred there was prostitution going on – although we don't know if he had ever been there to see for himself -.

Kupu2 malam = Night butterflies!

========

….we've heard not a word about all the big fancy five-star hotels where happy hookers prowl with impunity.

Here's my eye-witness account from last year.

=
( in English, despite my headline!)
=====

He's a big-hearted guy, our Governor –

"If they're really thinking about how they will live their lives, they should have considered that before working at a problematic company…"

=====

And off the workers go, to join the teeming ranks of unemployed Jakartans, of all races, creeds and colours – BTW, let's not forget Anies' commitment to pluralism.

Meanwhile, Jakarta awaits the advent of the shariah hotels that Anies' deputy, Sandiaga, has spoken of enthusiastically. Get Your Tickets Soon – Jakarta Shariah Tourism Boom ?.

 

What delights will these splendid edifices, when they open for business, offer tourists that the five-stars don't?

Special conditions of employment?

We hope that any waitresses and maids who don't do their jobs properly will only suffer unemployment as punishment.

No way will the sort of brutal penalties meted out to little girls in Indonesia's shariah province, Aceh, up north…

=

=

…for 'offences' like holding hands with a boy-friend are going to be replicated in this once effervescent capital city.

NOT YET!