Pity poor 32-year-old Shohreh Bayat, stuck in Vladivostok, where the Women's World Chess Championship was taking place!
………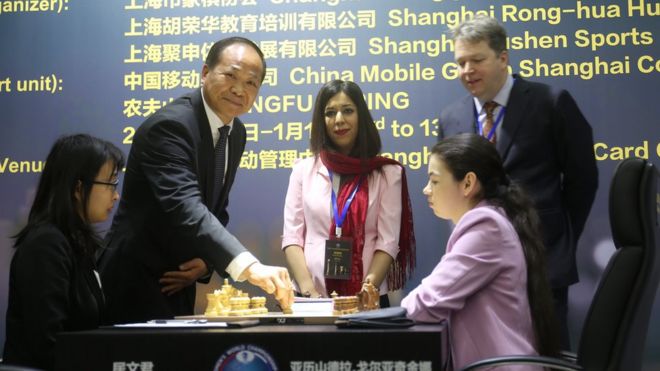 'She now feels unsafe to return to Iran, where women can be arrested for violating strict Islamic dress code.'
Although she says the 'incriminating' photo was taken while she was preparing to don her ayatollah-dictated scarf of subservience, "despite disagreeing with the rule…"
.
..
…she faces a real risk of persecution by the evil regime in Tehran, an evil encouraged in its intolerant iniquity by collaborateuses like Australia's Julie Bishop…
======
====
…and notorious appeasement freaks like the Brussels Empire's apparatchik, Red Fed Mogherini…
===
While she shakes the hands of these men, she thinks of the nine-year-old girls who are "legally" forced into marriage with the consent of the government?
https://de.gatestoneinstitute.org/10912/feministinnen-dschihadisten
===
….and those immensely 'liberated' and 'feminist' Swedes grovelling to shariah too, remember?
All those prominent, influential women should have stood up bravely with the warm wind of Tehran blowing their God-given hair hither and thither – and, were they not such unattractive wenches, bare-mid-riffed and clad in mini-skirts!
=
=======
Back to the Iranian chess lady's courageous assertion, which –
'It's against my beliefs. People should have the right to choose the way they want to dress, it should not be forced…'
– makes it highly likely that the grotesque delusionary (un-elected, the old despot claims he's responsible only to God Almighty!) dictator there will have her punished if she dares to go home.
Regime change is urgently required. A referendum giving the people of Iran at least three options –
a – continuation of the existing evil edifice
b – restoration of the monarchy, modelled on the democratic European kings and queens we all know
or
c  – a secular democratic republic of some sort.
Judging from the royalist slogans heard from anti-ayatollah pro-testers over the past year…
…I'd say the exiled Reza Shah would have a good chance of winning back his father's throne.
Wouldn't that be a great day!