Poor Dinar Candy!
Or, in her own language, Kasihan Dinar Candy… 
And who, overseas readers ask, is she?
My Indonesian readers will know she's a 'show-biz' personality, quite a cutie…
=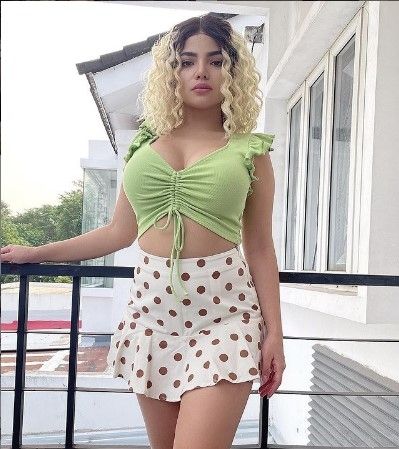 .
…as you can see, and thus somebody likely to elicit my sympathy.
And why does sympathy come into it?
Because, stressed out by the emergency rules introduced to curb the Chinese Virus…
..Dinar donned a bikini and took a stand alongside Jakarta's busy thoroughfares, where she hung about attractively, for a while.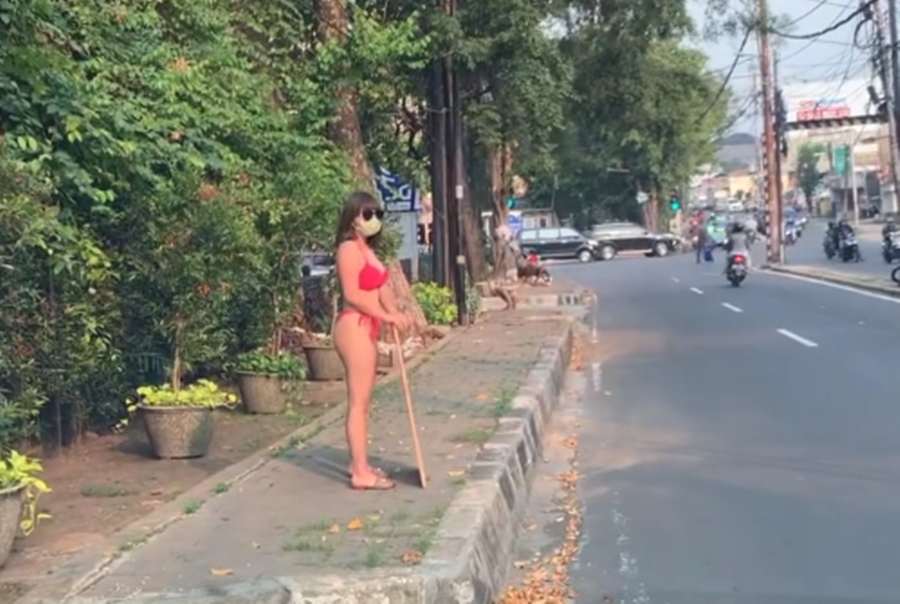 Not long enough, alas, for me to call a cab and take her a cool drink, but time enough for videos which duly featured on various tv news bulletins.
Alas, ludicrously, the channels I watched had the infamous blur superimposed on her comely form.
More than once have I fulminated against the opaque cover-up  – the blur, a diktat of the state censorship body…
========
https://www.ayobandung.com/komunitas/pr-79610248/final-putri-indonesia-disensor-demiz-sebut-kpi-jadi-lembaga-pembluran
The blob has even been used to ruin a perfectly nice scene at a Miss Indonesia event!
=========
But my fulminations have been to no avail, and the censorious blur continues to obscure the enjoyment of normal folks, no doubt gladdening the hearts of people like the Executive Board of the Indonesian Muslim Student Union (PB SEMMI)

According to SuaraBekaci.id, those boring board members issued a sanctimonious call for Dinar to apologize!
And if she dares defy the kill-joys' call?

'If she doesn't apologize, Dinar Candy will be reported to the police…Dinar Candy is considered immoral and indecent...'
Now it can be argued that Dinar might have dreamed up more practical measures to tell the world of her stress problem.
We all get stressed now and then, even Yours Truly but wearing a swim-suit to town would not occur to me – it would be a horrid sight on the highways and by-ways of Jakarta, or any other city. I'd probably deserve to be arrested!
=
But calling the cops on Dinar is bloody ridiculous.
There's nothing unacceptable about bikinis.
=
Behold!
And anybody insulting a girl for wearing a bikini, abusing her as 'immoral and indecent,' is just a…
Well, I disdain the use of obscenity, so you must deduce my thoughts.
Sadly, there are more than a few unusual persons who over the years have set bad examples to the young, on the subject of beach-wear.
There's that grisly old brute who urged bigot thugs to attack foreign tourists in Bali…
=
….revealing his backward bigotry for all the world to see..
…In the video, Bashir urges those in the village to beat up tourists that disrespect Islamic ways, saying, "If there are infidels here, then beat them up. Do not tolerate them."
Later in the sermon, he likens non-Muslims to crawling "worms, snakes, maggots."
He also says infidels ruin moral values by exposing their skin at the beach.
Worm about to turn?
"Take a look at Bali", he said.
But he's exceptionally hateful and horrible.
The lesser hang-ups presumably stem from bizarre notions held by many, about women's bodies, that men should decree how women look!
'Fathers and husbands, their private parts are YOUR responsibility'
000000000000000000000000000000
Some sad souls actually believe that gunk-think.
Which may well be one reason why poor pretty Dinar has actually been cautioned by the cops –
The Metro Jaya Police spokesperson, Commissioner Yusri Yunus said that Dinar Candy can be charged for violations against ITE and pornography laws after the female disc jockey staged a public protest against the extended public activity restriction (PPKM) by wearing a red bikini at a sidewalk in Cilandak, South Jakarta. 
https://en.tempo.co/read/1491167/dj-dinar-candy-faces-possible-pornography-charges-after-bikini-stunt
One can only hope that Dinar, who has indeed apologised, will not be taken to court.
If she feels unduly stressed, she can always drop by my place for a chat.