'The effect of your decision is disrespectful!'
NB – not even the usual low road preferred by BBC hacks and hackettes with an axe to grind, along the lines of 'some people say…'
=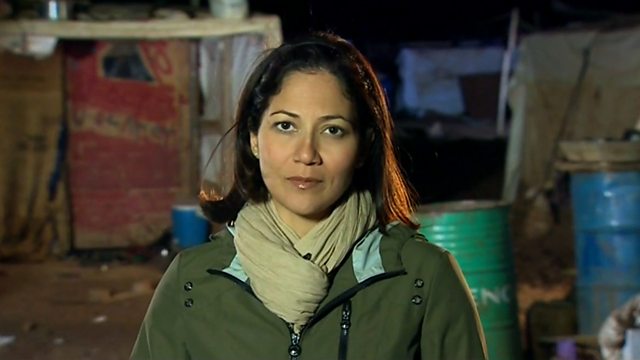 Mishal Husein
=
…but a very deliberate and direct verbal assault by a biased bint, named, as it happens, Mishal Husein.
Her target, and Poland, were under attack for not attending an Auschwitz concentration camp commemoration ( in Israel, but organised by a Russian oligarch) to which various heads of state had been invited to speak –  but not Polish President Duda, even though said camp was located in Poland.
It was a nasty Putinesque snub and Poles are quite right to be indignant – yet the BBC bint blathered on, aggressively dredging up, for no obvious reason, an occasion when her guest, Poland's Prime Minister, Mateusz Morawiecki…
=
Poland's PM
=
…upset the apple-cart by telling the indisputable historical truth, that not only Germans, not only Ukrainian and Polish collaborators, but Jews too, were among the guards at war-time concentration camps.
Mishal Husein seemed not to like that truth -why?
The BBC has some carefully edited extracts here –
I must say the Polish gent took her hostility in his stride, with the dignified courtesy his nation is known for.
=
=
But this latest example of an insolent absence of impartiality made me look into Husein's background.
She was born in the UK, though her family left India to settle in Pakistan many years ago, and she spent some of her childhood in the Gulf, but her pampered upbringing saw her schooled outside the state system…
.
…so there's money there somewhere.
She was a Bloomberg bint before joining the BBC and she has just risen and risen, ever since, despite being described as a "spokesman for Corbyn' after her antics at an election debate in 2017 – and she also told Bojo to 'stop talking' during another interview, to which he replied that he had been invited to talk – it was an interview, after all.
She later sought to weasel out of that arrogant outburst by saying she was telling him to stop talking about Diane Abbot…
=
–
Arrogant Stinko Scoff-Laws, Egged On By Big-Name Berks! 
…about whom, surely, there is very much to say, and to ask, like why, as a far-leftist, she sends her off-spring to the same sort of privilieged private school as Mishal Husein attended!.
Incidentally, her aggressive attitude to Myyanmar's leader Aung San Suu Kyi, in 2013, caused that guest allegedly to comment later that "no one told me I was going to be interviewed by a Muslim."
Husein wrote a book, and was then sycophantically interviewed for ( of course) The Guardian, and in that interview she illustrated what passes for self-criticism among BBC pinkolettes.
She frets that, on the subject of the encampment of savages in Calais…
=

=
She got it right, but regrets it?
Go figure!