We touched on the subject of whether Scotland's intolerant First Minister has a conscience last week..
….
…so it's only fair to do a follow-up
UK Pravda kindly offered a round-up of reporting on the creature…
(I mean the transfreak rapist, not Sturgeon)
.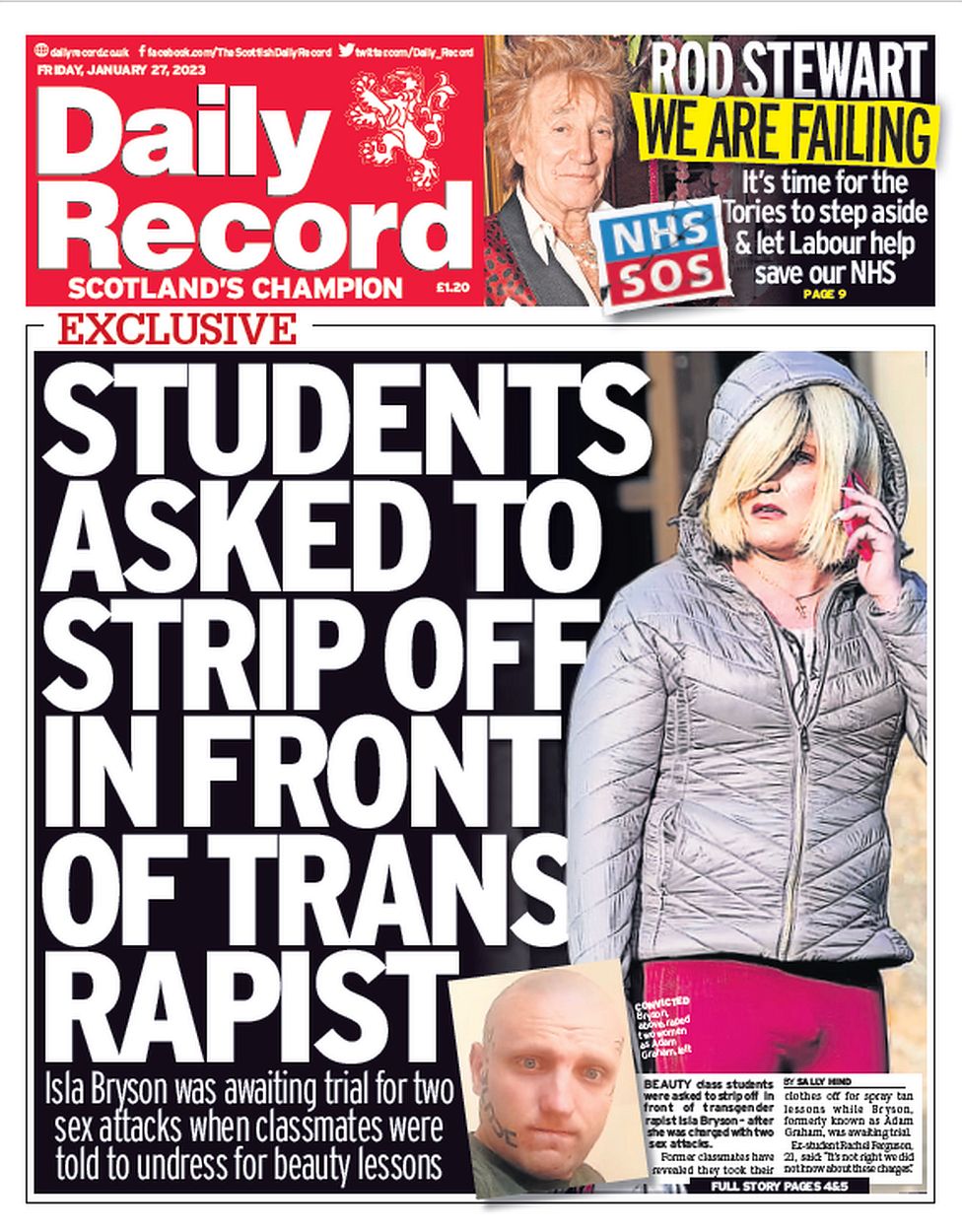 I
More revelations relating to a transgender rapist have emerged in The Daily Record.
It reports that beauty therapy students are demanding answers from Ayrshire College after they were asked to undress for spray tan classes in front of Isla Bryson while she was awaiting trial on rape charges
. Bryson, who began transitioning from a man to a woman while awaiting trial, was convicted on Wednesday of sex attacks committed while known as Adam Graham
https://www.bbc.com/news/uk-scotland-64422632
…so feast your eyes.
It seems he – not 'she,' for pity's sakes!  – is wisely being put in a male prison, after general outrage.
Is Sturgeon okay with that?
Using various media reports, it would seem so…
.

.
…but was she genuinely shamed  by the logical outcome of her pro-freak crawl policies…
…
Police Scotland, Lawless And Reckless!
….or just trimming her sails to fit the wind, the tornado of public outrage.
.
Seems to have been the latter, for another evil male, claiming to be female, is being sent to a real women's prison.
Nicola Sturgeon approves another trans prisoner's move to women's prison
/
Tiffany Scott, formerly known as Andrew Burns, has been described as " one of the most menacing people in Scottish jails"
https://www.telegraph.co.uk/politics/2023/01/28/nicola-sturgeon-approves-another-trans-prisoners-move-womens/
'Menacing,' a powerful word, should surely be applied not only to the man calling itself 'Tiffany,' but also to the demented shrew running Scotland.
There's a lot I could say, but I'll let somebody else say it, rather well.
'So in Nicola Sturgeon's Scotland, trans women AREN'T women if they're convicted double rapists, like Adam 'Isla Bryson' Graham. 
'However, trans woman and paedophile Katie Dolatowski, who covertly filmed a 12-year-old and attempted to rape a 10-year-old, both offences committed in women's public bathrooms, IS a woman and remains in the women's prison from which Adam Graham is to be removed…'
Bravo, JK Rowling!
NB..the 'menace' is still getting moved to what must be the hunting ground of his, yes HIS, vile dreams…..

…unless Sturgeon back-tracks on her 'principles' again..