====================================
No hesitation about quoting The Commentator yesterday, which spotlights the meaning of the Independent's latest opinion poll…Remain on 45 percent and Brexit on 44 percent.
This should be seen as good news for Brexiteers since the Survation poll was conducted by telephone. Phone polls have tended to favour Remain because they are less anonymous than online polls — which have been much more positive about the prospects for Brexit.
http://www.thecommentator.com/article/6342/why_latest_poll_putting_remain_just_ahead_is_good_news_for_brexit
====================
And that's a point to ponder.
The oppressive climate we are seeing back in The Old Country again in recent days, with that call for prosecution of Nigel Farage for his spot-on UKIP poster on the migrant menace…
=================
——–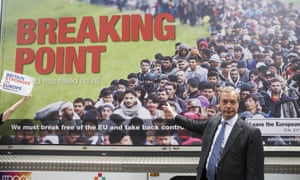 =================
…has, at least a little bit, done what Camoron's pro-Brussels clique demanded – subdued what had become ever bolder expression of the most telling argument for British independence – the need to get immigration BACK under British control.
ooooooooooooo
For years, Brits have been bullied and betrayed by the rotten establishment, told they're 'racist' if they show any inclination to speak up for their own, rather than imported aliens.
Hence they have made the most of this rare opportunity – which many of them, of us, see as a last chance to take back the country from the Enemy Within.  
Don't let them put you down!
—————-
The anonymity issue is always significant when the establishment is almost uniformly in favour of something because some people (perhaps up to 10 percent) are very reluctant to voice opposition to "polite" opinion.
With practically all established organisations — from the CBI to the Bank of England — backing Remain, this factor is highly likely to be at play ahead of the June 23 referendum.
In other words, a 1 percentage point lead (2 if you take out the undecided) is nowhere near enough for Remain to be confident that the result of the referendum (conducted by a secret ballot) will be true to the opinion polls.
Remain should probably be leading in all opinion polls by 5-10 percentage points by now if they are going to win.
The fact that they are not, and that the average of all recent surveys shows a dead heat, should give us Brexiteers cause for cautious optimism.
00000000000000000
Wake Up,Britannia!
If you don't go out and vote, vote to free Britain from Brussels, you'll regret it for the rest of your lives – you don't need me to tell you that.
oooooooo
---