The Guardian is a loathesome newspaper but this week it probed a new nadir of vileness, when it published a rant from far-left hag Polly Toynbee under the headline…
Come to parliament, Sinn Féin, as saviours of Ireland – and Britain
https://www.theguardian.com/commentisfree/2018/mar/01/parliament-sinn-fein-saviours-brexit-impasse
Here's the hag…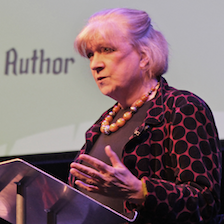 The foul old brute wants the 7-strong Sinn Fein/IRA cohort to give up their abstentionism and take up their seats at Westminster to help her own anti-Brexit jihad.

=
To be fair, Toynbee ( who says of the vermin gang that they could be heroes)  – though any piece of sh-t who talks of 'Sinn Fein' and 'heroes' in the same breath doesn't deserve 'fair' – is only echoing that uppity queer in Dublin.
She names him in her article –
The taoiseach, Leo Varadkar, ventured to call on the party on Wednesday to take up their six – soon to be seven seats…
In other words, as with so many of his predecessors, notably Albert Reynolds…
=
Blood-Beast Adams, Eire's 'Taoiseach' Albert Reynolds and the slimy SDLP leader John Hume shake on their anti-self-determnation pact
————–
…the wretch Varadkar wants the current generation of the 'political wing' of the IRA murder gang to do his dirty work.
That's no surprise.
But for ANY British person with a shred of decency to hail the enemies of the United Kingdom as 'saviours' and 'heroes?'
How low can Toynbee sink?