We are well aware that the kneeling scum in America are mostly mindless oafs and that the archetypal oaf is Un-American Kaepernick, an admirer of the worst Latin American despot in modern history…
=========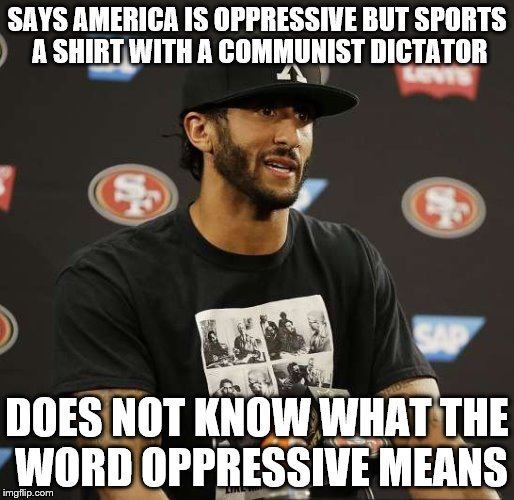 ========
…but if further proof were required, here's a neat revelation courtesy of the WT
The Colin Kaepernick Foundation donated in April $25,000 to Assata's Daughters, a Chicago "direct action" resistance organization honoring Assata Shakur, who escaped prison and fled to Cuba after being found guilty in the 1973 murder of Officer Werner Foerster….He retweeted a July 16 message wishing Shakur a happy birthday.
http://www.washingtontimes.com/news/2017/sep/28/colin-kaepernick-charity-donates-25000-to-assatas
And that peculiar name rang a bell!
Nearly three years ago, when Obama was cosying up to Castro's Communist tyranny, this foul red sow's criminality cropped up…
…and we mentioned not only…
oooooooooo
==================
…that she was a sometime member of both the Black Panthers and the so-called 'Black Liberation Army…'
=========
=========
….but that the FBI had included her on their MOST WANTED TERRORISTS list with a $1 million reward for information leading to her arrest.
The BLA?
Vicious racists, but not to be confused with the present day BLM, another outfit despised by decent Americans after that infamous race-hate outburst we have also covered before.
I honestly don't know if Cur Kaepernick has that gang on his donations list, but I would not be in the least surprised.