Road signs on Penny Lane in Liverpool have been defaced over claims they are linked to slave merchant James Penny.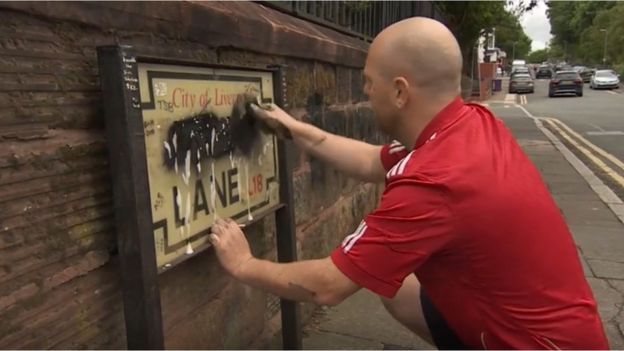 The markers had the word Penny blacked out and the word racist written above them..
https://www.bbc.com/news/uk-england-merseyside-52992669was
A tour guide says that in fact the claim is 'pure ignorance!'
Who cares, for pity's sakes?
All credit to the local resident who described the vandalism as "an idiotic act".
"If you want something removed, there's ways and means," he said. "Defacing Penny Lane signs isn't going to change a lot [and] it's the wrong way to go about things."
Well said!
Uptights and BLM trouble-makers should be prosecuted if caught vandalising public property, but we don't know if Liverpool top cops are as gutless as those in Bristol…
.
..
…who stood down, tailor's dummies while criminal damage took place under their noses.
I hear the Home Secretary scolded the constabulary clown there, but he was soon back in the news, insubordinate, boasting of how he didn't want to upset the BLM rabble.
That turd needs flushed.
But will the surviving Beatles now go into grovel-mode?
Why didn't the mop-headed young lads think ahead…
The Beatles
.
….and foresee that in 1970 that fifty years later the country would be held in thrall by malcontents and fanatics?
PS
You may think I'm jesting, but in America a band called Lady Antebellum has changed its name to Lady A, because 'antebellum' refers to the gracious and graceful styles of the Old South, and we mustn't vex diddums, must we?