Just noting.
It's the same six governments, again without consulting their citizens, who have openly incited further incursions of illegal aliens by taking in the latest crimmigrant cargo, from that 'Ocean Viking' bludger-boat, via Malta.
=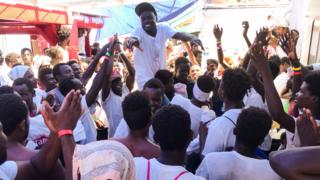 Sudanese illegals celebrate victory over Europe
==
'France, Germany, Ireland, Luxembourg, Portugal and Romania' are once more the guilty parties in this betrayal…
=
==
…ooops!
Sorry, Spain was one of the bad guys last time but didn't do the dirty this time – it was Dublin's vile Varadkar who stepped in as Madrid opted out.
No matter – any crimes henceforth committed by any of the nearly 360 ( mostly Sudanese) imported at their behest are the fault of those countries' irresponsible and/or malevolent leaders.
The alien tsunami will NEVER abate if lawless queue-jumpers are rewarded in this way.
Again, as you read this bad news, so too will hordes on the far shore of the Med, and they will be encouraged to launch more invasions.
The ONLY way to stop this tsunami is to…
=