It may well be that a vote  for Maxime Bernier's People's Party of Canada does risk splitting the anti-Turdo upsurge that is surely due in the October federal election…
But after the red-nazi shrills imposed their censorious intolerance this week…
.
………
..
….I hope Canadians turn out in their thousands and hundreds of thousands for the PPC.
…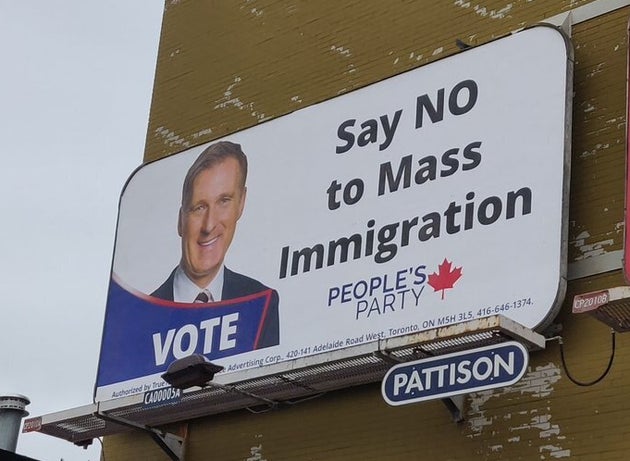 I refer of course to the intolerant censorious leftists who couldn't stand the sight of a perfectly legitimate election slogan (which reflects the views of millions, not just in Canada but around the world!) leftist bullies who shrilled and shrilled at the billboard company.  
.
Until the company bowed to the bullying..
The cowardice and complete betrayal of both democratic principle and honourable business practice by Pattison Outdoor Advertising deserves the most scorching condemnation.
That the company knew very well what was the honest thing to do, but didn't do it, makes their gutless surrender to multicult fanatics all the more nauseating.
That they were fully aware that the only ethical option was to stand firm, against the bullies, is proven by their initial assertion that –
"Should advertising elicit a public debate, we encourage Canadians to voice their opinions directly to the advertiser who placed the message…."
Within 24 hours they hoisted their true colours…
…
Yellow!
…
"….later in the day, the company issued a second statement saying that while the billboards didn't violate any policy, they would come down."
And according to at least that media report, Canadians are not just being taught a lesson on how far they may go in dissenting from the state ideology, but also being coerced even with regard to  how they may express their opinions when they use the English language…
(and the French – Bernier is of course Francophone!)
=
…which means, inevitably, that if you can't say or write something, many people will soon forget to think it.
Quoting a People's Party spokesman who says that – 

"For me, mass immigration is 350,000 a year so yes we're against mass immigration…" –  the news report at once continues, referring to   a piece of sublime arrogance.
The phrase, however, is associated with more than just numbers.
Critics of the term often consider it a synonym for opposition to visible minority immigrants on the grounds they pose a threa

t. 
 So just as politicians may not use the word 'infest' because so many cities are infested with undesirable aliens, there's a
left designed push to outlaw the term 'Mass Immigration' from election debates – or indeed day-to-day conversation, on pain of being abused with the 'R- Word!'
.
….
'Visible minority' is yet another brain-dead cliche meaning non-white.
Since Turdo's vile father declared Canada officially multi-cult and eagerly supervised the importation of swarms of aliens unwilling to assimilate…
Turdo Senior – friend to terrorists, fan of tyrants
Turdeau and Terrorism – Like Father, Like Son? 
…more and more true Canadians, of all colours, have objected to this folly – although folly is the wrong word when it was a calculated, malevolent policy, much as Merkel's in Germany.
….
Time to put Scheer's Timid Tories on the spot, as we tried to do months ago…
…and ask them if THEY are scared to talk about
'Mass Immigration'
I must write more frequently before voters 'head to the polls,' which is how all media now say, rather than 'cast their votes!'