Only this week, I dug out my artificial Christmas Tree- living in Jakarta is not like my boyhood days in Perth County, Ontario, when we'd walk a little ways from the farm-house and cut one down!
Being in Indonesia, I often have Muslim guests and they are not in the least 'offended' by my modest festive decorations.
On the contrary, they like the way my home is cheerier at this time of year! And I'm cheerier too.
Until I read the news from Italy…
It's really quite hard not to pour scorn on the pathetic and pusillanimous priest who is so eager not to 'offend' that he has cut back on the celebration of Christ's Nativity at his church in Cremona, in Italy. 
……
…..
Let's just say I am sick and tired of pinko pukes of all denominations, all parties and all nationalities who bleat about how one must never 'offend' ethnic or religious or 'gender' minorities, yet who simultaneously, sedulously, go out of their way to offend US!
And by 'us,' I include all the Christian Italians in Cremona for whom a priggish clown, 'Father' Sante Braggie, has shown utter contempt, OFFENDING even the priest who previously ministered to the same congregation….
–
"We cannot renounce our culture and traditions. That would be an unpardonable weakness. I am,  for the time being at least, in Italy, not Saudi Arabia." Braggie's predecessor, Father Oreste Mori
---
….by cancelling Christmas, or at least an integral part of the Christmas Season…
…there would be no nativity scene at the local cemetery this year as it could offend people from other faiths whose relatives are buried there….a small corner of the cemetery is reserved for Muslim graves.
---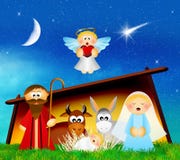 —————
"A crib positioned within sight of them could be seen as a lack of respect for followers of other faiths, hurt the sensibilities of Muslims, as well as Indians and even atheists.       
http://www.express.co.uk/news/world/742698/Priest-Nativity-scene-Italy-could-offend-Muslims-Sante-Braggie
Hey, Sante, your duties are located in a church, right?
The church is obviously visible to people of all creeds and of none, right?
Shouldn't you demolish it, lest non-believers get all 'offended' if their business or social activities require them to be within sight of such an 'offensively' Christian structure?
But that would be unfair on the genuine Christians who are not embarrassed by their faith, right?
So a better idea, then.
Just remove your priestly collar, which you disgrace every time you put it on, and…
………..