A witness in the Oxfam sex scandal investigation was physically threatened and intimidated by three of the suspects after the leaking of an official report, the charity has said..
Not one hoodlum, but THREE?
=
===
This continuing saga of 'bullying and intimidation' has to have people asking what sort of scumbags Oxfam was in the habit of recruiting.
The prostitution is now a mere side-show, though it cannot be ruled out that any of the prostitutes were under age."
But Oxfam's hoodlum staff, or ex-staff, need to be identified, as one of our commenters earlier today has reminded me.
And not just with a redacted memo, the contents of which may never be revealed to the public, 'whose money they have soaked up for years,' as my commenter succinctly puts it!
We know that Oxfam has shown no hint of any moral compass in its choice of beneficiaries. How many lousy lowlifes like this one in the photo below have they helped out?
=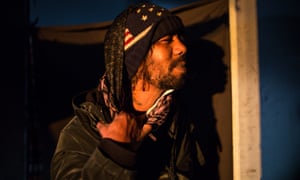 HUH?     Unfortunately?
OXFAM HAS PROVIDED HIM WITH LEGAL  SUPPORT.
So where were the Oxfam thugs at that time? Had they already been sent off to raise hell in Haiti, or were they sleazing around the Med, taking lessons from Yassir Abdou?
Most importantly…
WHAT ARE THEIR NAMES!
Oxfam could end the cover-up!
If those named feel aggrieved, let 'em sue!
If Oxfam remain coy?
Where are all those intrepid investigative journos?