It is of course very foolish to expect anything in the way of sense from somebody like the hard-faced Shree Paradkar, below….
.
…who gets paid real dollars to be a 'Race and Gender Columnist,' of all things. Seriously!
Canadians should nevertheless be grateful to this Toronto Star hackette, for her brazen denunciation of fair play.
By the way, if you wish to take up the issue of her anti-democratic intolerance, here's her email address!  sparadkar@thestar.ca
Her real name is apparently Bageshree Paradkar, who confessed that she was born into the high caste level of society in India and found Canada a bit of a let-down when everything didn't go as smoothly as she expected when she brought her tiresome mind-set to the Dominion some years ago.

She even wrote a wretched rant about her experience.

But the uptight old bat's posh upbringing is no excuse for her arrogant hostility to Canadians who dissent from her leftist prejudices against normal democratic principles and practices.

Have a read!

Of course many journalists of colour — there are not that many of us in the newsroom — felt let down by our employers' decision. It stopped us in our tracks, forcing us to change gears from the regular demands of the job.
Lazy gits!
They're not paid to flaunt their racial hang-ups!
We didn't have the luxury of shrugging or rolling our eyes. Many of us had deadlines, yet we had to take on the emotionally exhausting task of organizing and speaking up to explain to our management why this impacted us so viscerally.
Who the HELL do these uptights think they are?
Somehow they got jobs with pay and conditions that many honest Canadians would envy.  
Yet their deadlines, a key part of any real journalist's job, are put in the balance so they can waste their time staging 'emotionally exhausting' collective rant sessions?
Damfool management, that didn't fire the uppities on the spot…
.
.
…but then the whiners would've begun yelping about 'racism.'
One recognises the true voice of the ideologue in her use of the ridiculous phrase for coloured people, "people of colour," but skip that – you want to know why she and her comrades were throwing tantrums.
Answer – the Toronto Star, a notoriously leftwing newspaper, had invited Maxime Bernier, leader of the PPC patriot party…
….to sit down with its editorial board, same as other party leaders.
But Shrill Shree's gang of bigots wanted their bosses to discriminate against Bernier on ideological grounds. Partly because they just hate what he stands for…
The event was open to anyone in the newsroom. We know how these discussions unfold. This is why many of us journalists of colour decided not to participate in any capacity — neither to question Bernier nor to work behind the scenes to produce the live video
How infantile – or yellow, to cower from hearing honest answers to their querulous questions!
…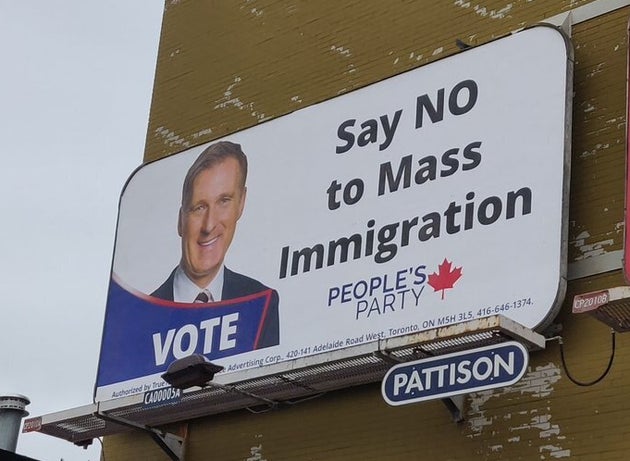 …
…but, tellingly, because they thought if the readership heard his message, it would legitimize the speaker. And when that speaker is polished or perceived by the audience as authentic, the platform elevates their stature.
In other words, they'd like what they hear, they might agree with him, and might vote for the PPC!
.
.
And we can't risk that, can we, any more the party's policy on multicult madness and/or mass immigration should be seen on billboards, as other parties' policies are advertised.
True North Strong And Free?
Not if this wicked woman with alien values has her way.