While the anti-gaystapo boycott of Target's stores…
=
..has been quite successful (although pressure must be maintained!) we have only recently been made aware of a rather disgusting situation with regard to another big business, which has been partnering with a notorious pro-homo pressure group and targetting children.
I refer to the antics of a clothing company which has sparked a petition., viz.
Tell J.Crew: Stop marketing the LGBT agenda to children
 oooooooooooooo
And here's why! they merit protest!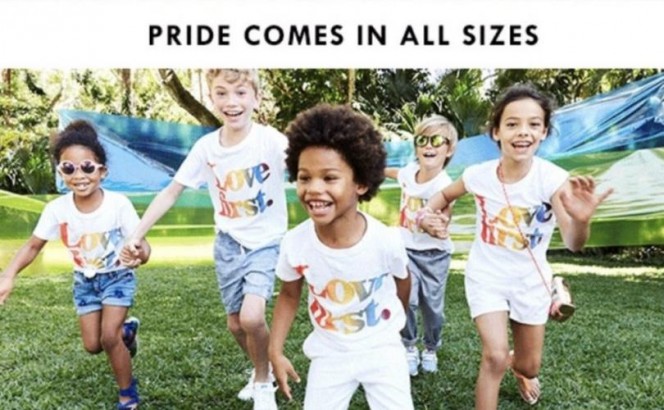 The popular clothing retailer J.Crew is the latest company to jump on the bandwagon for "LGBT Pride Month," and it's using children to do it.
J.Crew has launched a "Love First" collection of rainbow-themed T-shirts, socks, and tote bags celebrating homosexuality. Worse, it's donating half of each sale to the so-called Human Rights Campaign, a radical lobbying group known for terrorizing any state or community that refuses to sacrifice religious liberty to the LGBT agenda.
But worst of all, it's marketing these shirts to children, with promotional images featuring kids in rainbow "Love First" shirts and sizes available to fit toddlers as young as two years old.
In addition, J.Crew has set aside Saturday, June 9 as a special "pride" day in their stores, where customers can "[g]et ready for a parade or just come in and share the love with free flags, temporary tattoos and so much more!"
This is just the latest in a long line of pro-homosexual moves by the retailer….
What a sicko outfit, yeah?
 
Before I add the tail-end of the petition organisers' message, here's another useful link you might wish to use…
…to tell J Crew what you think.
It is appalling that any company, let alone one millions of families have richly rewarded for so long, is taking any part of exposing innocent children to such confusing and inherently sexual subject matter, and attempting to recruit such impressionable young minds into such a grave, adult debate.
It's time for anyone who values children's right to be children and parents' right to teach their values to unite and tell J.Crew not to market homosexual activism to children. Sign the petition.
https://lifepetitions.com/petition/j-crew-lgbt-agenda