We expect little or nothing…

…in terms of impartial journalism from the Guardian.
.
.
And after the furore over their Person of the Year poll/non-poll…
… anything that appears in that exemplar of pinko creep media purporting to measure public opinion..
…must be suspect.
00000
And sure enough!
'There was a supportive mood for the jury on a grey, drizzly Thursday in the city, a place known for its political activism, free spirit and creativity.. 
So this leftist Guardian hack, Jamie Grierson…
…conducted a scientific, proper poll, a serious effort to see if a majority of Bristol folk…
(who do have – and for many a long year have had – all the usual democratic channels to require their elected representatives to remove, move or maintain public statuary)
..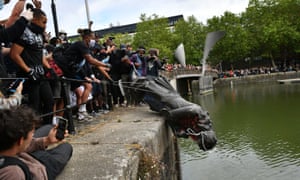 .…
…wanted Colston's harmless monument removed?
Of course not, any more than decent Bristolians, as opposed to bored welfare layabouts…
.
…lame-brain students, marxists and, more recently, uppity BLM racists, wanted it removed
No, there was never any motion passed for its removal.
Nor did the uppities manage to make the philanthropist's statue a key election issue!
So let's look at the in-depth survey carried out by pinko Jamie.
 Which involved no less than FIVE people!
Melanie, Ashley, Alagie, Otis and Aisha. Even then, not unanimous.
And Guardian Grierson twists that to say there's a – 'supportive mood… In the city?'