Very disturbing report from the English West Country, and we need to echo the concern of the Conservative MP there about the role of the police…
.
…
..
…whom most British patriots no longer trust, after the shameless cowardice of cops in Bristol and London…
.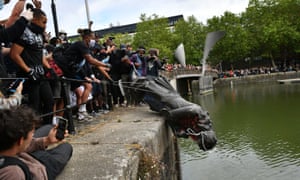 …and the slimy disloyalty of that Neil Basu.
MP Conor Burns sent his message via Twitter  – which I do not use, so only discovered it later:
"The removal of the statue of Lord Baden Powell from Poole is a huge error of judgement. Very concerned by the idea it is on advice from @dorsetpolice."
And laudably, he asked –
"Are we going to follow the example of the Met and Bristol and let the mob rule the streets?"
Yet the Dorset Police deny they wanted to cower from fighting off cultural marxists planning criminal damage.
"The decision on whether to remove the statue was not one for the police and no advice was given to remove it."
Admirably, 'local residents have already gathered at the site on the seafront and are ready to defend the statue from being removed.'
But as we read down the page in this media report, things get confusing.
There are also fears among cops in Poole, Dorset, that the site could spark "disorder or anti-social behaviour…"
..
So rather than the local constabulary do their job, uphold the law against filthy savages like those we saw in Bristol..
…Bournemouth, Christchurch and Poole Council have been advised to put the statue in storage by the police.
Police are not paid to act on fear but on their sense of duty, which requires courage…
.
.
…a quality found sadly lacking in London when those dingbat plods knelt before the rabble.
More than that, the council's shilly-shallying has got to stop!
As a reader comments, they seems a sly, spineless bunch, probably hoping if it's moved 'temporarily' the issue will just fade away.
No way should the statue be moved, pending democratic approval,  a local referendum, every citizen getting a vote, not just the useless councillors.
if they hold a people's vote alongside the next council elections – hardly any extra cost!