A year or two ago, we had a depressing report from Victoria, a left-bigot mayor disowning democratic principles…..
…
..
….but that wasn't the Australian Victoria, although that state too…
.ooooo
…has some very nasty people who make the news!
But from Canada's Victoria then, switch your gaze to Australia's Tasmania, to the city of Hobert, where councillors have just decided, by 7 votes to 4, to haul down the statue of a prominent citizen named Crowther, in response to a campaign by whiners vexed by something that man did with an Aboriginal cadaver, over 100 years sgo.
Crowther removed Lanne's skull from his corpse while an associate removed his feet and hands. He is also believed to have exhumed the remains of other Aboriginal Tasmanians.
Okay, not too nice, but what public figures, otherwise well thought of, haven't done things we would disapprove of.
Infinitely worse than dismembering a corpse (for scientific reasons, apparently) was the behaviour of the Western Allies' war-time leaders at Yalta…
..
….condeming millions of Poles and other good people to the slave-system called communism.
oooooo
I saw one blonde woman, allegedly speaking on behalf of disgruntled Aborigines, on ABC yesterday morning, rejoicing at the vote, so I looked for more information on this latest outbreak of the anti-statue plague, which has spread around the world…
.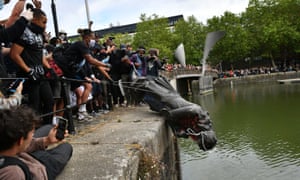 .
Bristol BLM louts,amok…..
… a form of mental illness, surely.
oooo
One of the dissenting councillors, Simon Behrakis, talked sense, 'saying history should be preserved "warts and all".
"That statue didn't go up celebrating the horrors and appalling acts committed. It celebrated a man's contribution to the state," he said. "Removing the statue does sanitise history. We don't learn anything from history if it is hidden away."
It had previously been defaced by politically-motivated by vandals, 'painted red and draped in the Aboriginal flag in 2021…'
Clearly this is NOT a party political issue, so I'd have thought the wiser way to handle it, rather than let 11 people decide…..

….would be to put it to a city referendum.
That leftist mayor in British Columbia abhorred the prospect, but what do you think?