One certainly hopes that the treason-teacher whose identity is being covered up by the General Teaching Council for Scotland (GTCS) …
….will be unceremoniously dumped into the trash-can where he or she (they won't even say if the terrorist-sympathising scumbag is male or female) deserves to be.
So far, all we know is that the swine faces being struck off after being caught with IRA propaganda items on display in the class-room.
Not only was  the 'hunger-striker' Bobby Sands, who defied his own church's doctrines by suiciding in the 1980s, glorified (on the "teacher's" coffee cup) but also offensive IRA cards from "Free Derry."
That was how the Sinn Fein/IRA murder gang described their terrorist no-go zone in Londonderry, when Blood-Beast Adams and Murder McGuinness were directing cowardly attacks across Ulster…
===
=======
…on troops, police and by-standers – please note, I don't say 'innocent by-standers,' because the troops and police were just as innocent as civilians, merely going about their lawful business.
The miscreant was also a lousy teacher in terms of unprofessional conduct too, including having "inappropriate contact with pupils personally by email," which you may read all about here
But what is most alarming is the GTCS's failure to ID the dirty rat.
Maybe when his or her fate is finalised the name will be made known. It's important, because otherwise it could happen that, unknowingly, parents looking for a private tutor could let it near their children.
Gavin Nairn

Mack the Knife
After this morning's post about 'youth…'
…somebody sent me a clip from the Guardian, which, were I not aware of the Guardian's penchant for publishing news of brain-dead pinkos who defy all logic and sense…
….
=
I'd have expected to read on 1st April, not 12th August.
=
Educators at the daycare centre in northern Germany tell the story of six-year-old Pia, who recently objected to her parents telling her to go to sleep by citing the kindergarten's "constitution," which is prominently displayed in each playroom:
"I can decide when I go to bed. It's my right."
=
=
One thanks The Almighty that this kind of drivel was not around during my own offspring's childhood.
Parenting is a rewarding duty but not always easy. A lot less easy, surely, when tiny tots are fed cr-p like this.
The centre's charter lists seven basic rights: I have the right to sleep; I decide what and how much I eat; I decide what I play with; I decide where I sit; I am allowed to voice my opinion any time; I decide who I want to cuddle with; and I decide who changes my nappies.   https://www.theguardian.com/world/2017/aug/11/german-nursery-children-make-decisions-vote-dolli-einstein-haus
What kind of adults will these kids turn out to be? Has Germany not got enough 'rights'-obsessed ninnies?
Do any readers go along with the hogwash 'right' that nippers can decline to go to bed until they've watched whatever cartoons may be on tv at midnight?
Believe it or not there are, inexplicably, cartoons on after even my bedtime, moronic pap like 'American Dad…'
=
=
…and how many of you approve a kid's 'right' to spurn their cornflakes until they've sated themselves on mini-chocolate bars?
=
When I was travelling around Europe with said offspring, it was made clear that, while the holiday was meant to be enjoyable, this did not include non-stop consumption of Golden Arches haute cuisine.
=
=
Fave fast-foods were allowed, but contingent on alternate regular samplings of good Italian lasagne, bockwurst mit kartoffelsalat in Germany…
=
Ha! Another 'Day' to note!
=
…wienerschnitzel in Vienna and goulash, if I remember right, in Hungary!
Entertainment too was not without democratic participation, choices offered of zoo, cinema, or museums.
I bowed gracefully to some of my frequent defeats re that third option, but nevertheless did insist on the Louvre in Paris, and on that wonderful Pergamon Museum in Berlin…
=
=
…which, in fact, was retrospectively admitted to be 'not bad, with those weird animals!'
But in terms of when to sleep, nappy-changing, 'where to sit,' etc., children need, and ultimately appreciate, discipline.
It's called growing up to be useful citizens.
========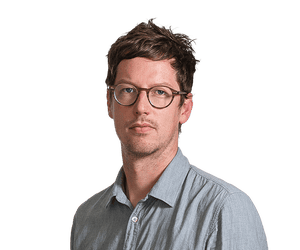 Oltermann
00000
Meanwhile, I have to wonder about the mind-set of the Guardian hack responsible for the article, some geezer named Philip Oltermann, whose own concept of democracy is somewhat askew.
…the brains behind the project are not only discovering that democratic ideas remain surprisingly contagious even in an era of populist revivals..
What the heck does that mean? On any reading, it tells us that the author takes the bizarre view that 'democratic ideas' are unlikely companions to be found with populist revivals.
=
Populism's enemy, anti-democratic elitism
=
 In fact, populism is the most assertive declaration of democracy that Europe and North America have seen in many years, common people squaring up to arrogant elites.
To be fair, the odd organisers are said to have SOME rules, notably when it is time to change a foul nappy.
Yet even so..
…the nursery chef has to act out the will of the voters even if it seems disgusting or unhealthy…
 
And when a school head can seriously argue that the onus is on the adults to learn to accept the children's decisions, rather than the other way around?
Time to get real, surely.
Gus Reddick

Diana
ENGLAND, 2014!
=====
=====
=====
…the report said the school, situated in a picturesque small town, was graded as 'good' instead of 'outstanding' because pupils lacked 'first-hand experience of the diverse make up of modern British society.'
——-
That's from the Daily Mail, and illustrates perfectly the war being waged by Cameron on the very existence of the British people as a people. 
——
—–
And how many of these schoolchildren's parents AGREED to the transformation of 'modern Britain' from a realm comprising English, Scots, Welsh and Ulsterfolk, into the multicult midden these apparatchiks want to force down the kids' throats?
—-
Nobody ever got to vote on the multiculturalisation of the UK.
It is an illegitimate project, with no democratic authority and should be put to the vote, in a referendum – should British people children, or indeed adults, be required to interact with alien immigrants, or should the latter be told leave their un-British 'cultures' back where they came from, to shape up or ship out?
ooo
ooo
The inspector suggested the school works to have 'first-hand interaction with their counterparts from different backgrounds beyond the immediate locality' – but did not specify how this could happen…
———-
Well, we must wait and see.
——-
——-
Meanwhile, parents should enrol their youngsters in self-defence courses and the school, given its duty is to ensure the safety of these children, should order a supply of kevlar body armour.
————
=================================================
I see the PC enemy within now openly treats British kids as second-class citizens, overt discrimination imposed on them by the cultural marxist enemy within .
==========
========
St Mary's C of E Primary School in Kidderminster, Worcs., laid on a petting zoo visit on Tuesday for non-English speaking pupils only, while pupils who did speak the language had to stay in lessons.
http://www.telegraph.co.uk/education/11134553/Racist-school-excluded-English-speaking-students-from-trip.html
==================================
====
 -That's the cultural marxist message to Kidderminster's British schoolchildren!
====
Obviously, if aliens choose to settle in Britain, it's their duty to learn English, and see to it their offspring do so too. Expecting the UK tax-payer to do their job for them is sheer arrogance. The necessary funds  for language tuition fees should be a pre-requisite for aspirant immigrants.
OK, currently that cost is just another albatross hung around the necks of honest hard-working British folk. But instilling English into these aliens' young is one thing.
Blatant apartheid is another.
The rancid red rats running this school should be fired. Children expect FAIRNESS from their teachers, but these creeps are morally on a par with Vidkun Quisling, who chose to collaborate with Norway's alien intruders back in WW II!  
And remember, this kind of poison has spread much further than Kidderminster. It's all over the UK .
And at every educational level.
If aliens wish to study in British schools or universities, they should be made to understand these are located in an English-speaking country, and should be inculcating British values, which have always included FAIR PLAY!
A wholesale purge of traitors in the education industry is long overdue! 
—
Andy P