Good news, mostly, for decent Indonesians, whose government has urged officials to stand up to mob pressure…
=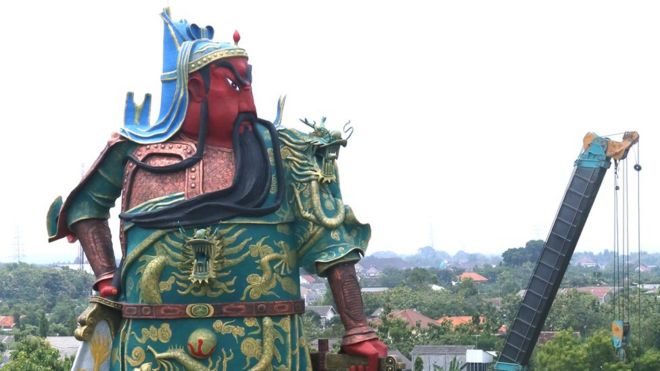 =
…after Muslim and nationalist protesters called for a 30-meter-tall statue of a Chinese deity erected in a temple complex in an East Java town to be torn down.
This is refreshing, coming at a time when bigoted Islamists have been riding high after Jakarta's Christian Governor Ahok was imprisoned for 'blasphemy' merely for quoting a Koranic verse.
So Has Indonesia Come To This? Paradise Lost? 
The statue of Guan Yu in Tuban, East Java, is said to be Southeast Asia's tallest such representation of the deity. 
Bigoted 'protestors,' some wearing paramilitary-style outfits have been ranting that "We are not worshippers of idols".
So?
Does anyone wish to make them 'worship idols?'
Obviously not.
But of course they know that full well, just as we know that the real reason for their ranting is nasty sectarian hatred.
We've seen it before, in another Indonesian city, Tanjung Balai, in Sumatra, very far away from East Java.
The enemies of religious liberty there were equally up in arms about this statue…
==
…
And that episode did not end well for the decent people in that neighbourhood.
It's important, however, to note that there was another President then ruling from the National Palace in Jakarta.
So well said, Teten Masduki, chief of staff to President Jokowi, who spoke to the media last week.
"If they ask for the statue to be torn down, authorities cannot bow to such pressure."
 http://jakartaglobe.id/news/statue-chinese-god-stokes-tension-muslim-majority-indonesia/.
Unfortunately, the Jakarta Globe fails to identify the sponsors of the intolerant rallies. A previous mealy-mouthed report would only say they were from 'certain groups,' a meaningless phrase but common enough here.
So let's have them named and shamed!
Equally, unfortunately, the Tuban statue is currently shown in the media photo as partially covered, appeasement of the ignoramuses, it seems.
—
—
President Jokowi would win widespread approval if he ordered his National Police Chief to get that fanatic shroud hauled down, and instal some well-armed cops around the scene, with orders to get stuck into any jihadist jerks who stick their bigot snouts in.