Naturally, something had to be said about the federal election next month, if only to correct the inaccurate adjective, because Canada was founded not as a federation but as a CONFEDERATION!
.
And the sooner the provinces redeem their constitutionally-intended status, the better, I hear many of you say.
But…
How sad that free speech is so emasculated in the Dominion whose anthem still includes a description of the country as 'strong and free.'
I read an article in the National Post about the Green Party leader who, having declared that her personal hero was Jesus Christ, then almost at once apologised.
..
Jesus teaching by example – on the subject of corporal punishment
..
Since most serious Christians might well say that Jesus is their hero, just as you'd expect Muslims might say Mohammed is their hero, and Buddhists to say the same about Buddha…
….Mrs. Elizabeth May's spineless retraction is incomprehensible – and her explanation, that her party is 'inclusive and all-embracing…' 
… ….
…..is on the face of it near imbecilic.
Except that the pathetic word 'inclusive' is instantly recognisable  — as a war- cry for the forces of intolerance.
.
………
Not just in Canada but across the Western world, if people take a stand against the media-political ruling class, if people speak up for what's good and true, they're branded as 'divisive.'
Those who want to enforce monochrome opinions, on the other hand, are deemed 'inclusive.'
Just as those who like best to brandish that other word, now rendered almost meaningless, 'diversity,' are often those most rabid to stamp out diversity of opinion.
…
…..
Speaking of monochrome opinions and suppression of dissent, naturally, brings us back to that billboard.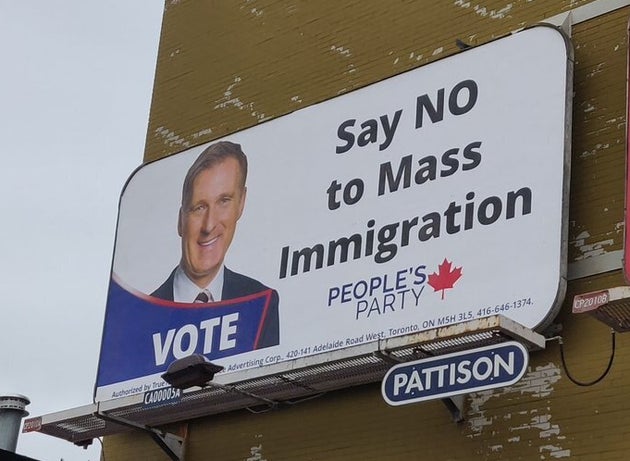 IIII
It was perfectly legal and reflected the views of millions, but was suppressed by leftist shrills determined to deny free speech rights to Canadians disgusted by multicult, even in the run-up to a national election.
Democracy?
The whole point of democracy is that people get to choose.
They may tell candidates what they want done, and if the in-crowd candidates won't listen, people may gather a few signatures and stand as candidates themselves.
Most importantly, any and every issue should be up for debate.
The in-crowd should not be allowed to hide their views by dissimulative drivel about 'settled law!'
It's parliament's job to make law, amend law or repeal law. Even when uppity judges interfere, Canada is fortunate to possess the 'Notwithstanding' rule.
Even more importantly, no parliament can bind its successors.
….

Conservative leader Andrew Scheer has offered a very legalistic response when accused of having a hidden agenda…he simply insists that he will not open those issues, because they are settled in Canadian law.
.
It doesn't MATTER what you think about the issues that freak Shifty Scheer out ( abortion and homo-weddings are his bete noire)
If you believe those things are wrong, or ANY law is unjust, then – unlike gutless Shifty – you should get off your ass and say so.
And yet inexplicably, such morally vacuous attitudes are embraced by many otherwise decent folk, like the guy who wrote the NP piece.
I don't see any value in the Conservatives reopening these issues, and I see lots of potential dangers if they do.
If the National Post writer sees no value in reviewing the values on which Canadian society currently rests, so be it.
But he is reprehensible to prophesy danger, not if the relevant laws are revoked, but if the arguments around them are open to debate in Canada's democratic confederal election.
Anyway, I'll be supporting the PPC.
As if you didn't know!