The Defence minister Andre Diethelm  stated that "this Vichy product should be immediately kicked out", as all those who had voted for Pétain should be ineligible.
He was stricken with "Indignité nationale".
===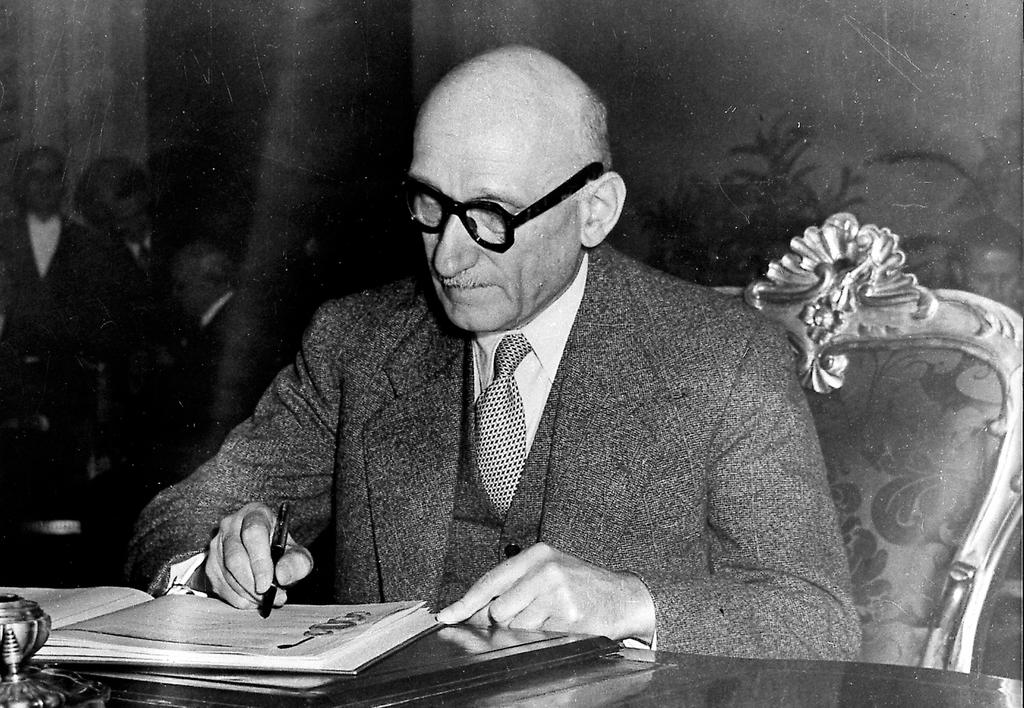 Schuman
.
And what was 'indignite national.'
I think the wikipedia entry covers it –
…a person entered the state of indignity through committing certain acts (not necessarily crimes) in the past, and this state continued until redemption through punishment.[6] The acts leading to "state of indignity" included any voluntary aid to Axis powers after June 16, 1940, or any of numerous specific offences outlined in the law:
participation in the Vichy Cabinet;
executive posts in the Vichy propaganda or the Commisariat for Jewish Affairs;
active participation in pro-collaboration demonstrations;
mere membership in pro-collaboration organizations.[7]
..
…
Those found guilty of indignité nationale were subject to a sentence of dégradation nationale and, from September 30, 1944,[8] confiscation of property. The convicted offenders were reduced to a class of second-rate citizens, deprived of election rights, banned from government service, trade unions, mass media, and executive appointments in semi-public companies.[8] The duration of disqualification, from five years to life, was decided by the court on a case-by-case basis.
======
And that's what happened to Schuman, till De Gaulle listened to the wretch's whining pleas and let him off, only for Schuman to spend his remaining active years sedulously seeking to subordinate France to supranational rule.
.
.
And then this month, what do we read?
'Time to reinvent our Union, learning from Schuman's courage!'
…..
That appalling appeal, from one of Macron's MEP flunkeys, a Romanian named Dacian Ciolos, whom the French Le Point described as "le Macron roumain"…
…..
Dacian Cioloș with his hero Le Muppet Macron
..
…was what prompted me to turn historian again and remind readers that Schuman was one of those who signed up to the Vichy deal done with Hitler.
.
.
Perhaps it was the Nazi leader's vision of a United Europe, aka Third Reich, which inspired that French jelly-fish to beaver away with the Fourth Reich scheme.
.
.
…
Next we'll no doubt read of the nobility of the Belgian admirer of National Socialism, Spaak, and how we should all draw inspiration from HIM.