I suggested recently that Marjory Taylor Greene might be a suitable candidate in 2024 if The Donald doesn't run.
==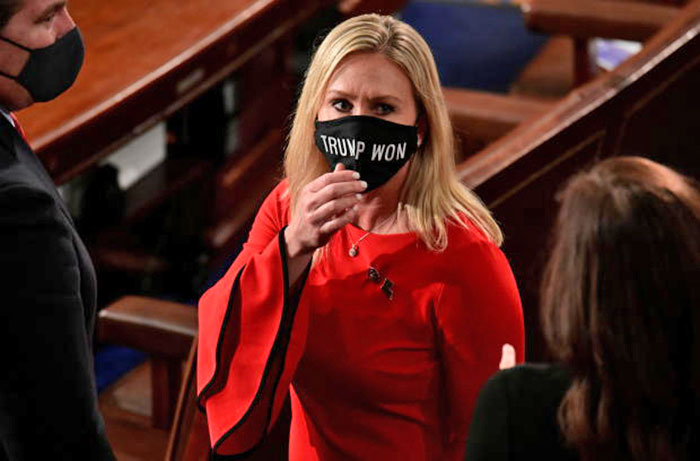 Bold and direct: U.S. Rep. Marjorie Taylor Greene wears a "Trump Won" face mask as she arrives on the floor of the House to take her oath of office on January 3, 2021.
Since she's a brand-new member of the House of Representatives, I wasn't entirely serious, but now…?
Now my enthusiasm for the lady who represents Georgia – a state which I wonder if the freako lobby wants to rename as Georgio/Georgia/GeorgIT? – has been re-ignited…
=
….
…after she decorated the doorway of her congressional office!
This declaration of truth was apparently prompted after a neighbouring Democrat representative chose prominently to display pro-maladjust material!
Good girl, Marjory!
And her stand for science V perverse delusion, which in a sane world would be neither remarkable nor necessary, makes me wonder too, if any Westminster Tories might make themselves heard voicing reality….
=
….or are they all too timid to tell the truth, cowed by The Jellyfish!