As noted, some of us think it's right to defy evil Islamist terrorism by going on about our legitimate activities as best we can.
=

=
Islamists are basically subhuman swine who hate normal human activity, like nightlife, song and dance, fun of any kind as much, even more, indeed, among decent Muslims as among the rest of us.
So let's go out on the town!
We see people back in Britain doing this, just as the French did after the jihadist swine committed mass-murder in Paris.
It's right and proper defiantly to carry on with social life!
So what on earth kind of sense does it make to put election campaigning into cold storage as a response to the Manchester atrocity?
If Theresa May were in any sense a true conservative, she would be making mince-meat of the IRA fan Corbyn…
=============
…., and the weak-kneed pinko LibDems who want to put Britain back under Brussels, the EUSSR which arrogates to itself the right to dictate whether nation-states may secure their borders, and issues diktats on how many unwanted aliens they must accommodate.
LibDems are eager to be servile subjects of that Evil Empire!
====
An unequivocally sound nationalist manifesto would be timely and surely triumphant, which may be why May has quailed before terror and suspended her General Election campaign. She is no nationalist but a self-confessed liberal.
Now I imagine the Con/Lab/Lib troika will turn their collective guns on UKIP for doing and saying the right thing, and by the right thing I mean Paul Nuttall's statement.
---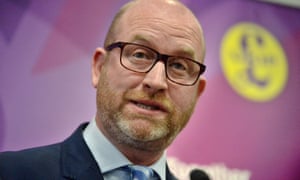 "…we cannot be cowed or allow our way of life to be undermined by those who wish to do us harm. These people hate the way we live, hate our freedom and hate our democracy.
"The best response we can make is to ensure that the democratic process continues and therefore I have decided that we must to go ahead with the launch of the Ukip general election manifesto…
=
=
"For those who say that nothing must change, but then complain, it is by prolonging the disruption to normality that we allow the terrorists to win. Politics has never been more important. Politicians must deal with these issues."
I cannot see anything wrong with any of that.
However, one hopes that UKIP will proceed to do all in their power to focus voters on the need to get tough on treason, and on the Enemy Within which nurtures disloyalty.