I do not dabble in 'Instagrams' so have never heard of Sahar Tabar, but if she is into mockery of Angelina Jolie, she can't be that bad.
Ms. Jolie is a pain in the neck, notorious for sniping at Donald Trump's attempts to defend America's border against the hordes of savages…
.
.
…currently threatening illegal incursions.
https://www.theguardian.com/film/2016/may/16/angelina-jolie-refugees-migration-crisis-donald-trump
But Sahar has just been arrested in her native Iran, apparently because the nasty tyranny there think she's committed 'crimes including blasphemy and instigating violence…'  
…..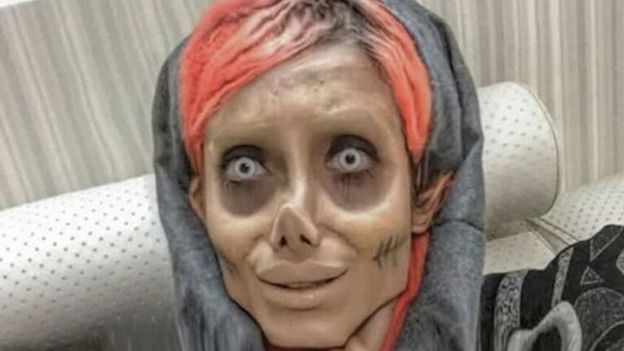 If it's true that she has had 'dozens of cosmetic surgeries undertaken to resemble the American star,' she may not be the sharpest knife in the kitchen.
But it's fair to say that no matter how much she uglifies herself, she will never be as hideous as the sectarian intolerance that characterises the regime that misrules her country.
If there's any substance to the charge of inciting violence, then by all means let's hear it.
But any police state that drags people into court in the 21st century on the basis of 'blasphemy' accusations should itself be dealt with harshly in the court of world opinion.
.
.
Yet I fear we'd best not hold our breath waiting for the Dark Age despots in Tehran to be summoned before the UN 'Human Rights' charade.