Vienna, 1683 – A Polish King Saves Europe from Ottoman Conquest
---
I like Poles, as a rule, not only because I've been to Poland, met lots of nice Poles, but also for sound historical reasons .
00000
–Deutsche Welle – Merkel's Media Lap-Dog Snarls At Poland!  
….
And I very much like the current Polish Government, as every wise man – or woman – should. Mama Stasi detests them, so nuff said!
But this week, one particular Pole, Mr. Janusz Korwin-Mikke – a conservative independent MEP – was talking rot when he declared that women "must earn less than men because they are weaker, smaller and less intelligent…"
……….
That's just about as outlandish as saying women should get a smaller share of a family inheritance than men – but we won't get into shariah law today!
Some women, like some men, are weak, and some, like some men, are definitely fairly stupid.
Then there's Professor Melissa Click…
—————
The Walking Brain-Dead?- Sex-Obsessed Melissa 'Muscle!' 
…...
….who is both obnoxious and ugly!
But are those repulsive qualities any more marked in her than in similarly unpleasant males…
……….

—————–
….like Lard-Ass Moore?
00000000000000
Seriously, though…is Mr. Korwin-Mikke oblivious to all the splendid women, past and present, who have contributed so much to the common good, and will no doubt do so in the years ahead?
There's that heroine, Hirsi Ali..
..

………………
There's the late Maggie Thatcher…
.—
—-
….whose true grit liberated the Falkland Islanders from Argie imperialism, and, equally important, smashed Scargill's NUM violent red 'pickets!'
Think too of today's heroic patriot leaders, like Marine Le Pen in France and Frauke Petry in Germany.
———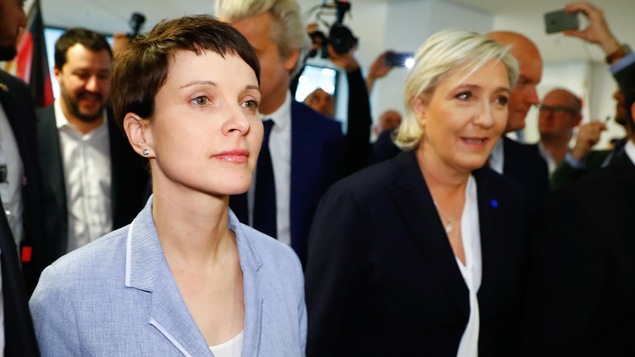 Germany's Frauke Petry with France's Marine
oooooooooooooo
ooooooooooooo
.
…
Or indeed Beata Szydlo, the feisty patriot who is currently Prime Minister of Poland!
000000000000000000000
And there are those whose names we don't know, like these courageous Kurdish women who have taken up arms against the ISIS rape-gang.
..
Erdogan, No Enemy of Evil, No Friend to the Brave! 
======
Old Janusz is simply wrong.
And even the dimwit pinko women in the Strasbourg 'parliament' should be able to challenge him and show in public debate how wrong he is!
But instead, it looks like the rule-book goon-squad's gonna stomp the oldster into silence.
———————
Parliament President Antonio Tajani was urged by the Socialists and Democrats (S&D) group to sanction the Polish MEP for his "shameful" comments. Penalties for such behaviour range from a reprimand to a fine and temporary suspension…
So much for free speech, which, among the cry-baby bints assembled in Strasbourg, and their male and/or queer and/or 'trans-gendered' comrades, is a right only granted to those who keep unfashionable opinions to themselves.
It seems the 'punishment' in store for the Pole is authorised by a censorious Rule 11 of the Rules of Procedure…
………..
……….
…a diktat which outlaws "defamatory, racist or xenophobic language or behaviour in parliamentary debates" – which will, no doubt, sooner rather than later, be utilised to curb criticism of crimmigrants, the alien horde who gate-crashed Europe thanks to Mama Stasi Merkel. 
He'd not long survive in 21st Century Strasbourg!
ooooooooooo
It's also telling how 'racist and xenophobic' stuff is specified as a no-no but there's not a word about marxist hate-guff, all that lame-brain class-war rhetoric….
………….

….or the vile Antifa gangsters' hate-speech…
Let's leave it to the misogynistic MEP's voters in Poland.
If they don't like his utterances, they will soon enough have the chance to oust him.
Meanwhile, he should be free to say what he likes.