Kasihan Duo Serigala – Sexy Singers Hounded by Fanatics!
Rimanews has a shocking story this week. 
======================
===================
The thing about blogging here in Jakarta is not so much what to write about each weekend but what to omit. There are stories that make me incandescent, of corruption, of assaults on religious liberty, of…oh, we'll get back to that, all too soon.
But then we have gob-smackers, like this, a story about a fine pair indeed!
By that of course I mean the Duo Serigala ('Wolf Duo')  a pair of lovely Indonesian girls, those in the photo above, who seem to be on the verge of a career slide, with their management ready to drop them!
Why? Because a notorious IslamoNazi gang, the FPI (self-styled 'Defenders of Islam') have become agitated by a video in which breasts are prominent.
Well, fair enough, a lot of guys DO get agitated when well-endowed wenches' endowments are on display. But – not perhaps surprisingly given the contemptuous distaste the FPI harbour against women…
…the white-shirt hoodlums, unlike most guys I know, are in tantrum mode, enraged, rather than enthralled.
00
00
Okay, uptight fanatics are part of the territory here, but what's so tiresome is that the brace of beauties look set to be dumped by their recording company, and their  manager, who have taken fright at the FPI shrilling.
—-
"We also want to let them go…we are under attack by the FPI," said Nuno, Head of Management Pelangi Records and Bima Records. "It's not worth it."   http://gayahidup.rimanews.com/selebritas/read/20150410/206566/Siap-Lepas-Duo-Serigala-Manajemen-Susunya-Sampai-Puting-Kelihatan–
Yes, it appears one of the gals, Pamela, did step over the 'ever-so-naughty' line, flaunting an entire and impressive orb for all to see – well, actually for those who chose to see – nobody was forcing jihadist jerks to tune in –  on the 'selfie' video.
I'm not sure if this link takes you to the selfie or not, but you'll at least be able to enjoy watching their gorgeous voices. https://www.youtube.com/watch?v=TMuqvWiVIn4
But what should be the source of outrage among public-spirited citizens is not the bare boob but the brazen bullies! Any threat should be reported to the cops. The cops should act on it, rounding up those found to have issued menaces against anyone.
It's none of the sectarian sticky-beaks' business. 
–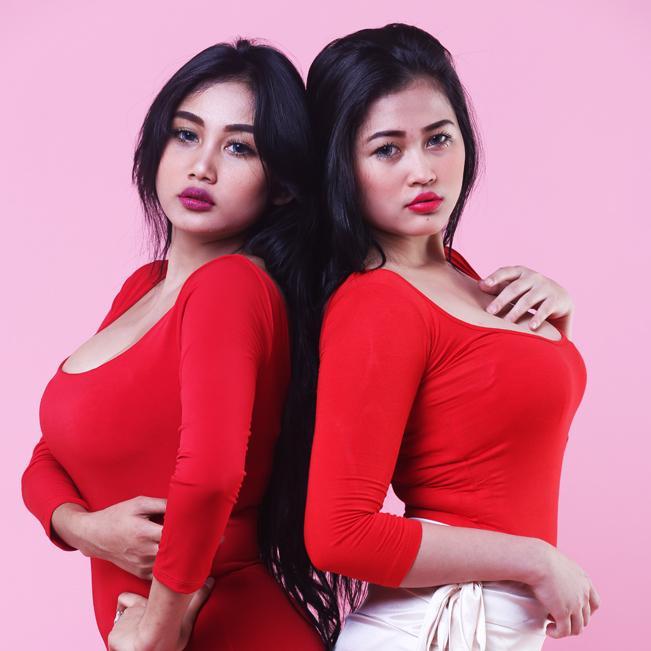 –
Because, after all, what's more offensive?
Two VERY pretty young women arguably under-dressed?
Or barbaric louts running amok, like this.
—
—
Again, I ask, what's more offensive? Lovely young ladies looking like lovely young ladies?
Or anti-social fanatics calling for sectarian murder?
—
———–
Before we finish this evening's post, just a few extra details gleaned from the news.
Pulchritudinous Pamela apparently boasts a 40B cup.
WOW!
And another story suggests the girls used to be 'sexy dancers' (strippers) before they achieved stardom on the music industry.
 Pamela "Duo Serigala" Ternyata Mantan Penari Striptis
Let's hope they bounce(!) back from this . 
.
https://rossrightangle.wordpress.com/2015/05/18/kasihan-amel-alvi-jadi-korban-media-kejam/